The Montrose area, rich in mountains, canyons, rivers, lakes, and streams, beckons outdoor enthusiasts of all stripes. With landscapes that vary from rugged desert canyon country to serene alpine meadows and lakes, our part of Colorado's Western Slope is unique in the American West. This is where the canyon country of the Colorado Plateau meets the mountain peaks of the southern Rockies.

While there are dozens of opportunities for self-directed activities in our natural playground, there are some activities that require detailed local information or expert guidance. If you have a limited amount of time during a vacation trip, hiring a guide will simplify your adventure — and help you get the most out of it.

Local outfitter and guide services provide a rich offering of recreation opportunities: from 4X4 tours and snowmobiling, to rock and ice climbing, to guided hunts, to wilderness adventures. 

Whatever your interest — from relaxing experiences where your guide covers everything, to challenging adventures in rugged terrain, or something in between — our dedicated local outfitting businesses will help you discover the richness of our piece of the American West.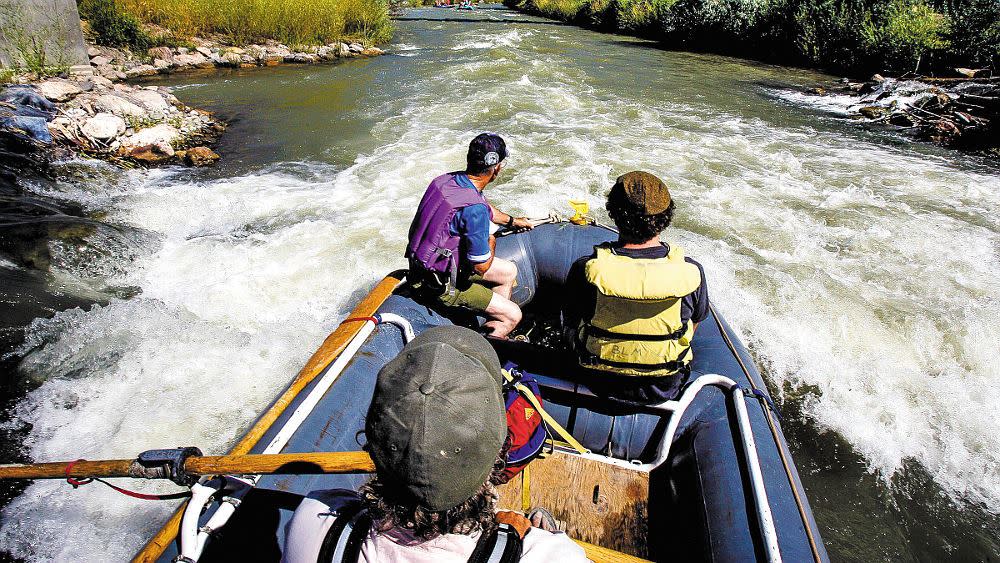 Hiring a guide
There are outfitters permitted by the U.S. Forest Service (USFS) and Bureau of Land Management (BLM) who provide fully guided, semi-guided, and self-guided hunts, depending on your goals. The variation depends on the amount of support one needs: one-on-one guiding, meals, lodging, game packing, or simply some tips for hunting and fishing in the area.

Any business offering guide services that operate on federal land, whether it's a half-day horseback ride, a full day of river rafting, or a multi-day hunting trip, must be registered with the state of Colorado and the appropriate federal agencies. If you're planning to use a guide for an excursion into the backcountry, do some homework on the business to ensure you're comfortable with them. 

Outfitters in Colorado must be licensed by the state's Department of Regulatory Agencies. Ask guides for licensing information, and check their records through the state and federal agencies. Be sure to ask for references for at least three other past clients. And before paying any money, require a contract that stipulates: types of services, dates of service, cost of service, lodging/camping/transportation arrangements, ratio of clients to guides, cancellation policy, and other items you believe are necessary.
 
Hunting
Montrose is literally surrounded by great wildlife habitat. A look in any direction reveals wide-open spaces and tens of thousands of acres of public land, all rife with wildlife and plenty of room to explore within your abilities and desires. There are remote areas to backpack or ride a horse into the back country. Numerous motorized trails accommodate those not physically able to trek into the backcountry. With the variety of guided services, species to pursue, terrain to hunt, and mountains to climb in search of a trophy, Montrose is a gateway for sportsmen to search for their desired trophy and adventure. 

West of Montrose, the Uncompahgre Plateau — known as "the plateau" to locals — encompasses 2,300 square miles of public land and offers relatively easy access for hunters. It's also home to one of Colorado's best Game Management Units for trophy elk, Unit 61. Nationally renowned for deer and elk hunting, avid elk hunters wait years for the once-in-a- lifetime opportunity to pursue Rocky Mountain elk in this area. Numerous USFS roads and trails wind over and through the vast plateau, making it popular with hunters.

To the east and south of Montrose, the high country of the San Juan Mountains provides ideal summer haunts for deer, elk, black bears, bighorn sheep, and mountain lions. Even with increased hunting pressure, sportsmen continue to find good success in the area — usually just less than half of them taking home meat for their freezers.

With terrain that includes everything from low-land shrubs to forests and Alpine tundra, you'd be hard-pressed to find a location more perfect for hunting. So, if you're a hunter, head out in any direction from Montrose for the unique and exhilarating experience of hunting in the Rocky Mountains.
 
Fishing
Local fishing guide services offer hard-won knowledge of how to fish our mountain streams and legendary Gold Medal rivers. You can hire guides for everything from half-day trips walking and wading streams in the high country to multi-day horse- or raft-supported fishing trips on the Gunnison River.

One of our premiere fishing experiences is a fully outfitted 3-day whitewater float-fishing wilderness trip in the Gunnison Gorge National Conservation Area. This trip-of-a-lifetime in the rugged depths of the "Gunny Gorge" features a stretch of river with so many large rainbow and brown trout that it meets the Gold Medal standard five times over.