Situated 5,807 feet above sea level, in the picturesque Western Slope of the Rocky Mountains, Montrose embodies the ideal mix of business culture and Colorado living - a rich blend that we refer to as the Montrose Lifestyle.

Those fortunate to live here reside within minutes of world-class resorts, pristine mountain landscapes, and vast expanses of public lands replete with activities that rejuvenate the soul and inspire the imagination. Abundant parks and trails, a top-shelf recreation center, convenient shopping, cultural experiences, and flavorful dining options round out the amenities closer to home.

Montrose reels in businesses looking to thrive while capturing the lifestyle that their people crave. An ideal cost of living, a bustling regional airport with direct flights to major U.S. cities, and an expanding high-tech infrastructure make this a place where businesses, and the people who work for them, truly can have it all.
Montrose is the place where lifestyle meets success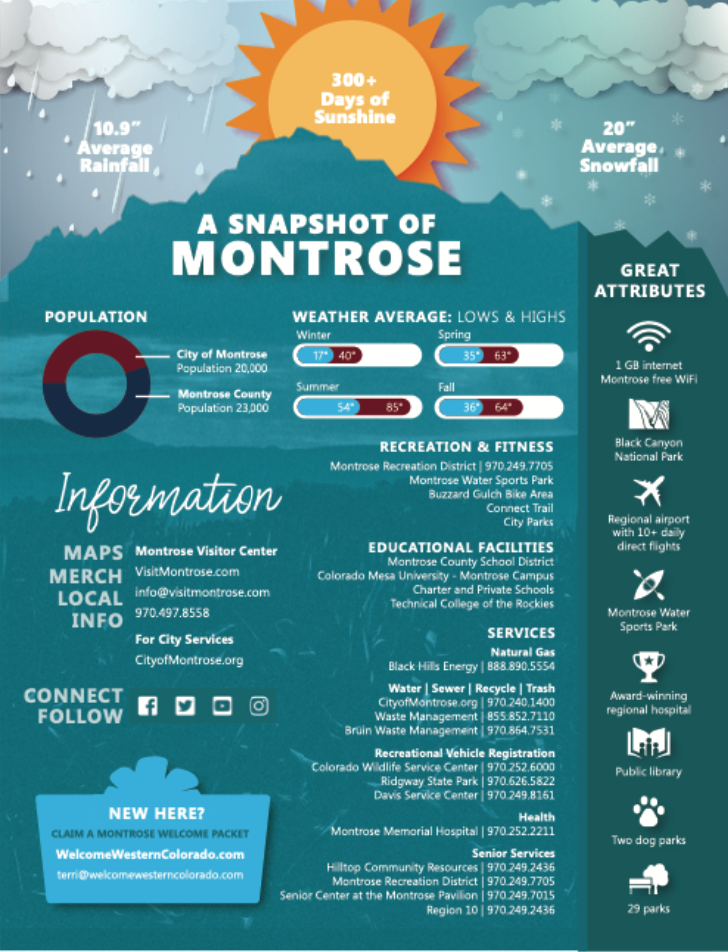 So Come Work Here!
We'd love to have you for a week or forever. Montrose is the perfect trailhead to making a living in the mountains, and thus, creating a lifestyle that is conducive to working where you play and playing where you work. Montrose is the place where lifestyle meets success.
Are you ready to call Montrose home? Reach out to us at 970.497.8558 for the inside scoop!
Relocate to Montrose, Colorado