Rafting & Kayaking
Each spring, snowmelt from the surrounding mountains brings increased water flow to our local rivers, lakes, and reservoirs along with adventure opportunities for rafters and kayakers alike.
There is no better way to experience the run-off than boating down the river! The Gunnison Gorge offers one of the most remote and unique rafting and kayaking experiences in the nation, complete with wilderness camping and your chance to reel in chunky trout in Gold Medal waters.

For a water adventure closer to civilization, enjoy the Water Sports Park located right in the heart of Montrose. 

Although rafting rivers is fun, it is also an activity that requires a high level of experience in order to safely maneuver a boat through any whitewater situation. Before you go, make sure your leader is properly versed and equipped for a variety of whitewater situations. Better yet, take advantage of utilizing local knowledge and certified trained professionals with a local rafting company offering guided trips. 
Please ensure your vessel has been thoroughly cleaned/decontaminated before launching it in water. Unseen hitchhikers may be traveling on your vessel and have the potential to ruin our water sources.
Most popular rafting trips in the region
 
Gunnison River Gorge
The ideal way to see the Gunnison Gorge is from the inside! A true wilderness experience, this 14-mile river section combines incredible wildlife and scenery with class III-IV whitewater through one of the most spectacular canyons in Colorado. The Gunnison Gorge Wilderness, located nine miles northeast of Montrose and just downstream from the Black Canyon National Park, offers a wild and pristine backcountry experience. The gorge is famous for its world-class fishing, geology, and wildlife, but sees moderate use because of its remote location and challenging access.
 
Uncompahgre River 
The Uncompahgre River between the town of Ridgway and the Ridgway Reservoir (Class II to III+ rapids) is a great introductory rafting section with wonderful wildlife and scenery opportunities. The majestic San Juan Mountains provide the backdrop for the entire run. Float through prime wildlife habitat for an up-close look at songbirds, deer, and birds of prey. Narrow canyon sections of the Uncompahgre River provide a unique and remote experience for paddlers and a unique opportunity to get off the beaten path. A fantastic run on over 15 miles of remote access on the lower Uncompahgre River is also available, with excellent water flows maintained throughout the summer. Access on this mostly private section of river is extremely limited, with no defined take-out location.
 
Lower Gunnison River
Named for the Spanish Jesuits that first explored the area in 1777, the Dominguez and Escalante Canyons are rich in history, wildlife, and scenery. The class II Gunnison River gently carves its way through Dominguez canyon creating a wilderness feeling. Cottonwood stands along the river provide nesting habitat for herons and songbirds, while deer, desert bighorn sheep, and large game can be seen along the banks. Native American rock-art and spectacular desert flora and fauna can be found on numerous side-hikes, making for a rich experience on the edge of canyon country; great for both rafts and kayaks.
Floating the Gunnison River through Dominguez-Escalante National Conservation Area 
 
San Miguel River
The San Miguel drops over 7000 feet from an alpine ecosystem to the desert. The San Miguel offers the whitewater boater a variety of runs within the class III-IV range. The river's consistent gradient and continuous character provides the boater with an abundance of whitewater. Due to spring flooding, the river contains numerous strainers and downed wood, though most are easily spotted; use caution. The San Miguel should be easily navigated by the intermediate whitewater boater. However, the San Miguel's class II-III rating can be deceptive. This river is continuous, shallow, and contains a fair amount of downed wood - the consequences can be more significant than the rating would suggest.

Don't forget to contact your local rafting outfitter to receive the most up-to-date information on conditions, access, gear, and guided trips. 
Most popular places to kayak in the region

Silver Jack Reservoir 
Located at the base of the Cimarron Mountains, this remote reservoir provides stunning mountain views and solitude. It takes a little over an hour to reach the reservoir on dirt roads from Montrose but this drive can be done in a 2 wheel drive vehicle. There is a primitive boat ramp located at the fishing access point on the southern portion of the reservoir. There are no rental options at the reservoir so rent a vessel in town or bring your own! 
Ridgway Reservoir
Located 25 minutes south of Montrose, Ridgway Reservoir is a popular boating, fishing, and paddle boarding destination. Various companies offer paddleboard rentals in the summer from the shores of Ridgway Reservoir. The reservoir can be accessed at the Dutch Charlie or Dallas Creek entrances to Ridgway State Park. The Dutch Charlie entrance features a boat launch as well as various beaches you can launch from and Montrose Surf & Cycle offers paddleboard rentals here in the summer. Dallas Creek also has a beach to launch from or, for a bit more excitement, you can launch upstream and ride the river down into the reservoir. RIGS Fly Shop & Guide Service rents paddleboards from the Dallas Creek portion of the state park in the summer. There is a recreation fee of $9.00 per vehicle for day use at all Ridgway State Park entrances.
Blue Mesa Reservoir
Blue Mesa Reservoir is located about one hour east of Montrose. Kayaks and canoes can be rented for use at Blue Mesa Reservoir's Elk Creek and Lake Fork Marinas. This is the largest body of water on our list with seemingly endless places to launch around the reservoir. Maneuver and explore the main body of water or venture into several arms of the reservoir which reach into secluded canyons.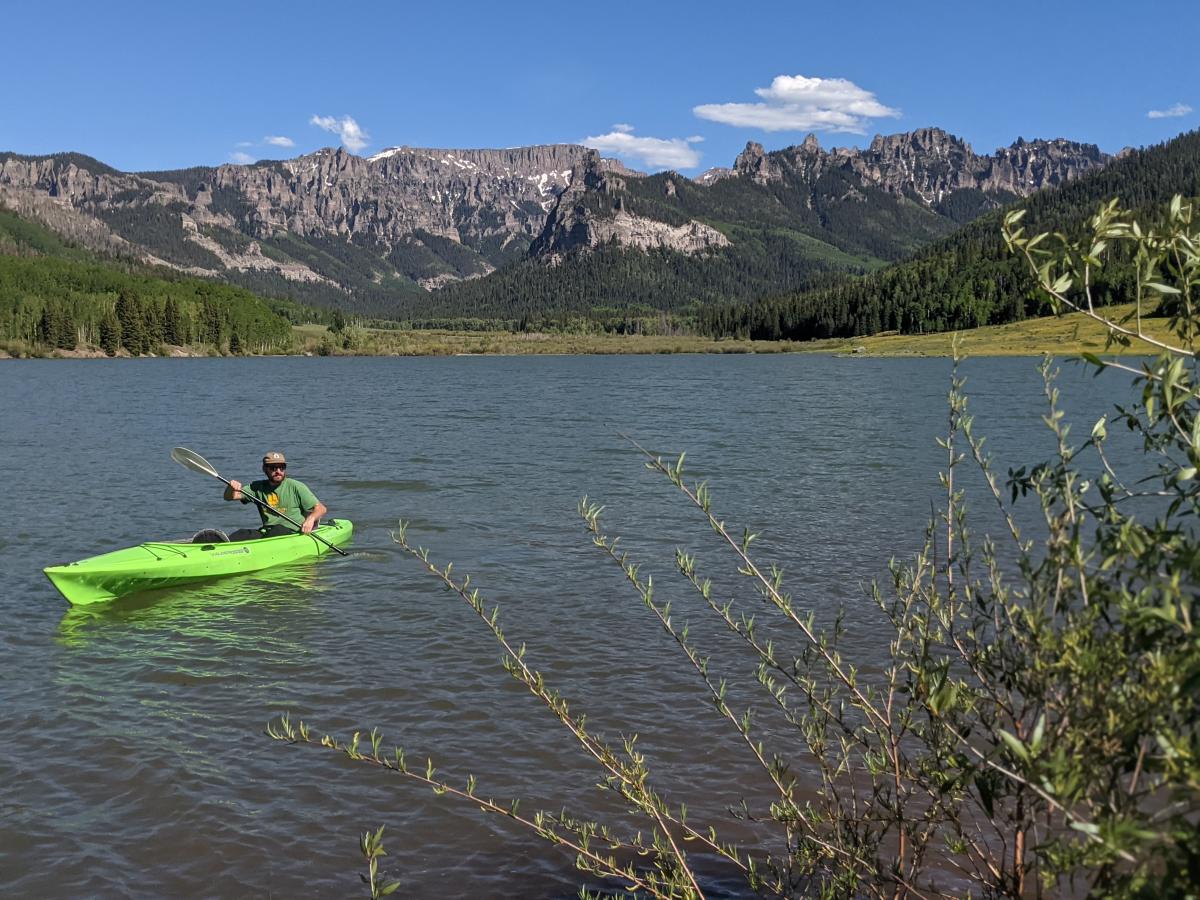 River Outfitters & Guides