Camping
On the hunt for the perfect Colorado camping or RV experience? Hit the road with Montrose in your sights. Options abound to suit just about every preference, from commercial RV parks replete with amenities and nearby services to remote wilderness experiences where adventurers pack in the essentials and soak in the solitude. 
 
National Forest Lands
The National Forest lands surrounding Montrose are peppered with developed campgrounds, each with its own mix of scenery, size, amenities, and fees.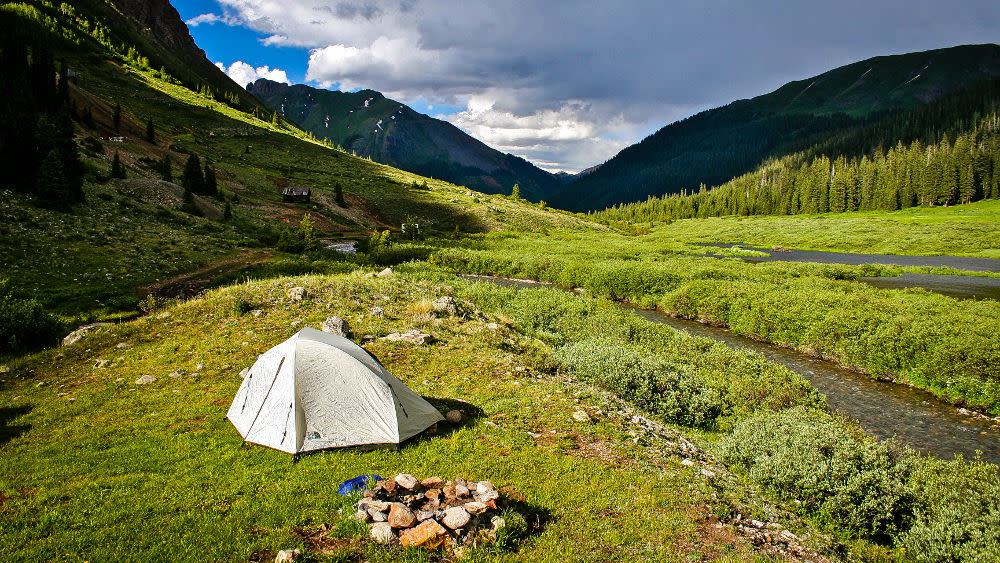 Camping in undeveloped (dispersed) areas is popular and permitted in National Forests. Facilities are not normally associated with this type of camping, and you are expected to take full responsibility for yourself: tread lightly; observe travel regulations; pack out all trash; remove or bury human waste at least six inches deep and 200 feet from water and campsites; keep campfires small; only burn dead and down wood; and be considerate of others. Travel regulations require campsites to be within 300 feet of designated routes, and they prohibit resource damage. Overnight camping is not permitted in day-use sites, including trailheads.
 
Black Canyon National Park
The National Park has two established campgrounds within its boundaries; one on the South Rim and another on the north. The East Portal Campground, located at the bottom of the canyon via East Portal Road on the South Rim, lies just outside the park's boundaries in the Curecanti National Recreation Area.

The South Rim Campground contains 88 individual camping sites arranged in three camping "loops." Water is available during warm weather, typically mid-May to mid-October. Loop B features electrical hookups. Loop A is open throughout the year, while Loops B & C open in the spring and close in the fall.
The North Rim Campground is located approximately 16 miles southwest of Crawford, Colorado. The last seven miles of North Rim Road are unpaved. All 13 sites are shaded within a pinyon-juniper forest.

Both campgrounds have a maximum stay of 14 consecutive days and a maximum of eight persons, and two vehicles are allowed per site. Vehicles more than 35 feet in length are not recommended.

East Portal Campground is located near the historic Gunnison River Diversion Tunnel in the shadows of box elder trees and the towering canyon walls. All 15 sites are first-come, first-served. Vehicles exceeding 22 feet in length (including trailers) are not permitted on the East Portal Road because of the steep 16% grade and sharp, narrow curves.
BLM-Managed Public Lands
Camping opportunities on BLM-administered public lands within the Uncompahgre Field Office range from primitive backcountry sites to more accessible campsites with hookups. An area camping guide is now available at the Montrose Public Lands Center (2505 S Townsend Ave).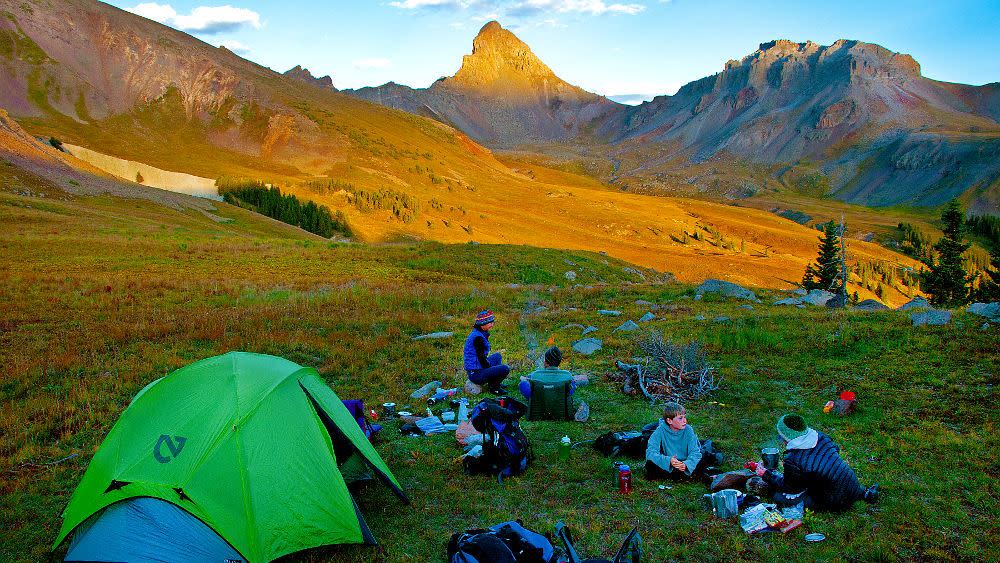 National Conservation Lands
National Conservation Areas (NCA) are lands designated by congress to protect, restore and conserve the landscape, flora, and fauna that live inside them. The Gunnison Gorge is one unit of BLM's larger group of special landscapes known collectively as National Conservation Lands, which offer exceptional opportunities for recreation, solitude, wildlife viewing, exploring history, and scientific research, plus a wide range of traditional uses.

Wilderness Camping - River corridor camping is allowed only in designated hiker or boater campsites identified on BLM maps and signs. Visitors must purchase camping permits and register and reserve campsites at wilderness trailheads or the Chukar boat launch. Maximum stay length in the wilderness and upstream of the Gunnison Forks is two nights/three days. Hikers may stay two nights at hiker sites. Boaters must move on after one night; no layover days are allowed. All river sites are available on a first-come, first-served basis; no early sign-ins for campsites.

Non-Wilderness River Camping - Camping is allowed only at the Cottonwood Grove campground and designated river campsites identified on BLM maps and signs. Use of a portable toilet system is required in all river sites without restrooms. Maximum stay length is six nights/seven days for sites downstream of Gunnison Forks. *All river sites are available on a first-come, first-served basis; no early sign-ins for campsites.

Dispersed Vehicle Camping - Camping is allowed in the remainder of the NCA for up to six consecutive nights, unless otherwise posted. Check BLM maps, signs, and website for camping information.

Day-Use Recreation Sites - Camping is not permitted in day-use areas, including the Gunnison Forks Recreation Area and Smith Fork Canyon. You may not enter or remain in day-use areas after sunset or before sunrise. 
Additional Camping Options
There are plenty of RV parks nearby if you prefer more amenities while camping. Most RV areas in town have dump stations that can be used for a fee. View a listing of camping and RV options in the Montrose region.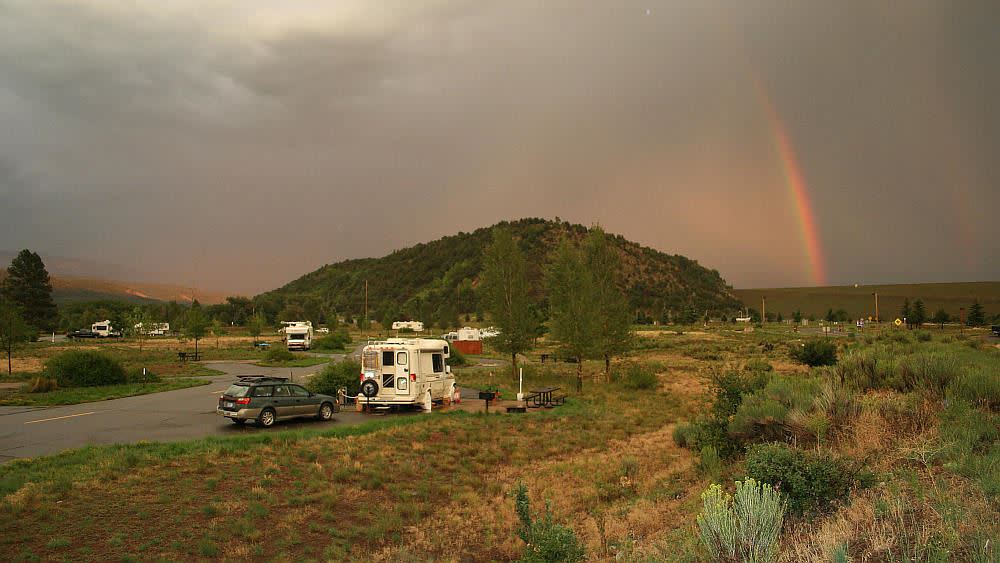 Cabins and yurts are yet another option for campers. Ridgway State Park has yurts available year-round. The San Juan Hut System has huts for mountain bikers, backcountry hikers, and backcountry skiers on Grand Mesa, along the Uncompahgre River, and in the San Juan Mountains. Their hiking/ski huts offer year-round accommodations, while bike huts are available seasonally from mid-June through September.
Tips for a Successful Trip
Camping excursions in the Montrose region are often remote and wild, so there are a few things to consider to make your trip incident-free:
Nighttime temperatures can drop significantly, even in the middle of summer; be prepared with plenty of warm clothes.
Daytime temperatures can soar, so be equally prepared with clothes that will help keep you cool, and remember to bring sun protection and plenty of water.
Dispersed and wilderness campsites offer no amenities and often no restroom facilities.
Do your research to determine the essentials you may need.
Always remember: pack it in, pack it out!
Follow the rules, regulations, and stay limits and obtain passes or permits where required.
Remember that access roads in some remote areas can be impassable and flash floods are possible during periods of heavy precipitation.