FUNC Fest
FUNC Fest 2022 will take place from 8 am to 9 pm on Saturday, August 13! 
Calling all water sports enthusiasts and fun-loving folks to come out and enjoy the annual Fun on the Uncompahgre aka "FUNC Fest" at the Montrose Water Sports Park in Riverbottom Park.
FUNC-y Line-Up!
The FUNC Fest 2022 features a full schedule of water sports competitions, live music, activities for the whole family, local vendors, a food truck village, and a beer garden!

Water Sports Competitions
This year, the water sports competitions will include the Riverbottom Downriver Race, Western Slope River Surf Competition, FUNCy Kayak Rodeo, and the Start Here & Paddle Everywhere Community Floating Parade. We will have great prizes and a cash purse for competitors!
Registration for these events will begin at 8:45 A.M. on the day of the event. The registration desk will be located at the FUNC pavilion just north of the Riverbottom Park restrooms near the pedestrian bridge. Fill out a registration and waiver form and pay fees at the event or download the form and bring a completed copy to the registration desk.
Live Music
Musicians The Last Spike, The Brown Family Band, and Donny Morales will perform throughout the day on the lawn. Bring your own chairs, hammocks, and blankets to relax on while you take in the tunes.
Food Trucks
We have confirmed The Polar Express Ice Cream Truck, Double Barrel Taco Company, DK's Snack Shack, HamBone a GoGo, Corn to be Wild, Greens 'N Grill, and Dippin' Dots.
Vendors
Apply to be a vendor at FUNC Fest 2022 here! The application deadline is 10 am on Friday, July 29, 2022 - DON'T MISS OUT!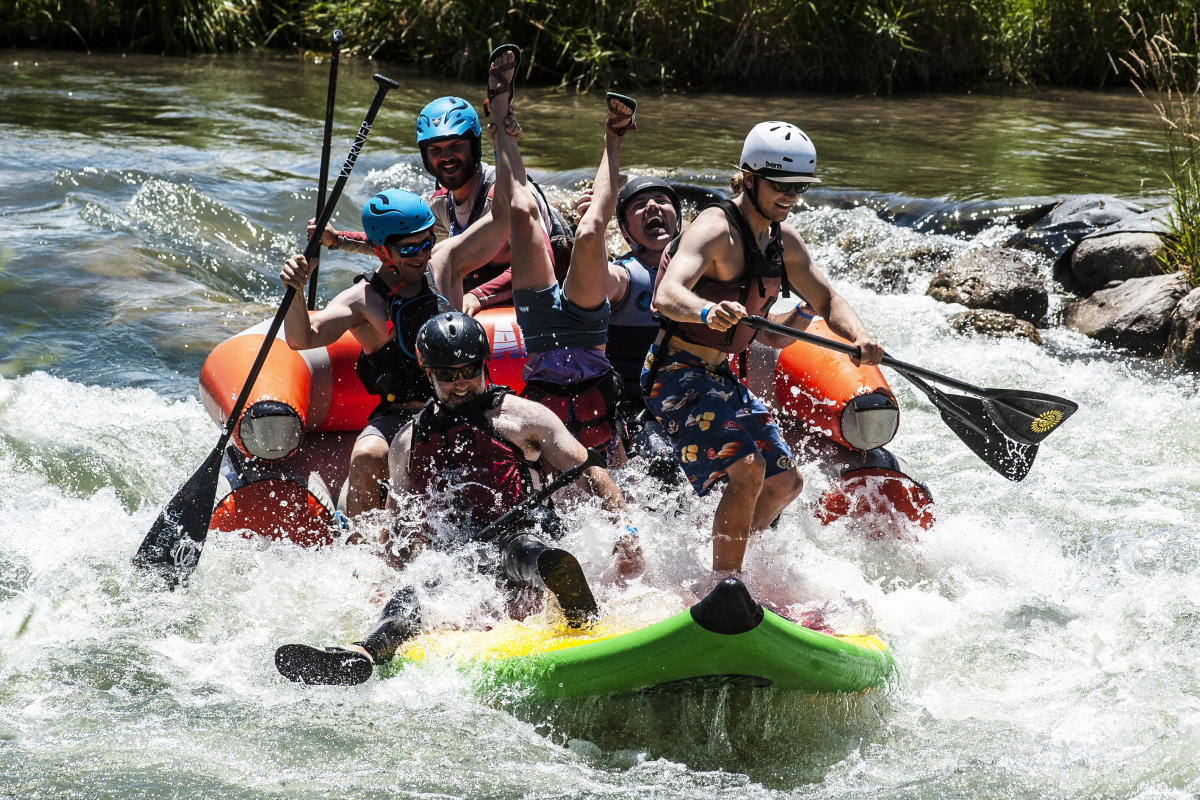 About the Montrose Water Sports Park
The Water Sports Park (WSP), located on the Uncompahgre River in Riverbottom Park in the heart Montrose's premier parks complex, consists of 1,000 feet of river channel. The WSP is one of the largest in the state of Colorado and one of the few in the U.S. to be accessible by ADA standards. Designed with all citizens in mind, from ankle waders to expert kayakers, the WSP is complemented by terraced spectator and beach areas, allowing a safe space for viewing right on the river. Sustained irrigation flows on the Uncompahgre River make the park an enticing destination through late summer, long after other parks have lost their luster.
Get More Info!
Visit the Water Sports Park Page
To contact our Community Events Coordinator Katie Schroer, email Kathryn@VisitMontrose.com or call 970.252.4753! You can also call the Montrose Visitor Center at 970.497.8558 for general information on FUNC Fest.