FUNC Fest
Calling all water sports enthusiasts and fun-loving folks to come out and enjoy the annual Fun on the Uncompahgre, aka "FUNC Fest", at Montrose Water Sports Park in Riverbottom Park. The event takes place on the second weekend of each August, offering two fun-filled days of activities, both on and off of the water. 
Save the Date for FUNC Fest 2024!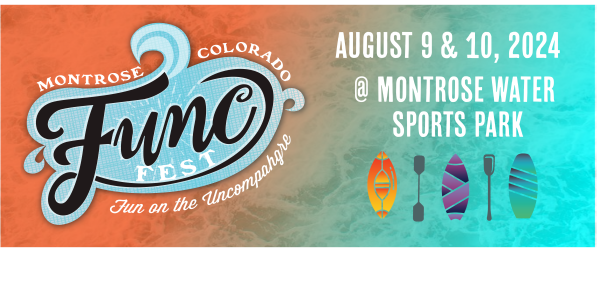 2023 FUNC Fest Highlights
Another year of FUNC Fest is in the books! The competitors were at the top of their game, there were tons of activities for the whole family, with good food and excellent music. It was truly an epic celebration of our beloved Uncompahgre River.
We would like to thank all of the musical talents who performed, all the vendors who shared our local scene with attendees, volunteers, and everyone else who joined in the festivities to make this event a success.
About Montrose Water Sports Park
The Water Sports Park (WSP), located on the Uncompahgre River in Riverbottom Park in the heart Montrose's premier parks complex, consists of 1,000 feet of river channel. The WSP is one of the largest in the state of Colorado and one of the few in the U.S. to be accessible by ADA standards. Designed with all citizens in mind, from ankle waders to expert kayakers, the WSP is complemented by terraced spectator and beach areas, allowing a safe space for viewing right on the river. Sustained irrigation flows on the Uncompahgre River make the park an enticing destination through late summer, long after other parks have lost their luster.
Get More Info!
Visit the Water Sports Park Page
To contact our Pavilion and Community Events Manager, Katie Schroer, email kschroer@CityofMontrose.org or call 970.252.4880! You can also call the Montrose Visitor Center at 970.497.8558 for general information on FUNC Fest.