Fun On The Uncompahgre /
FUNC Fest
Water sports enthusiasts, competitors, and the fun-loving Montrose community are invited to enjoy the Fun on the Uncompahgre "FUNC Fest" at the Montrose Water Sports Park. The annual event is hosted by the City of Montrose Office of Business and Tourism and features a full lineup of events on water and land.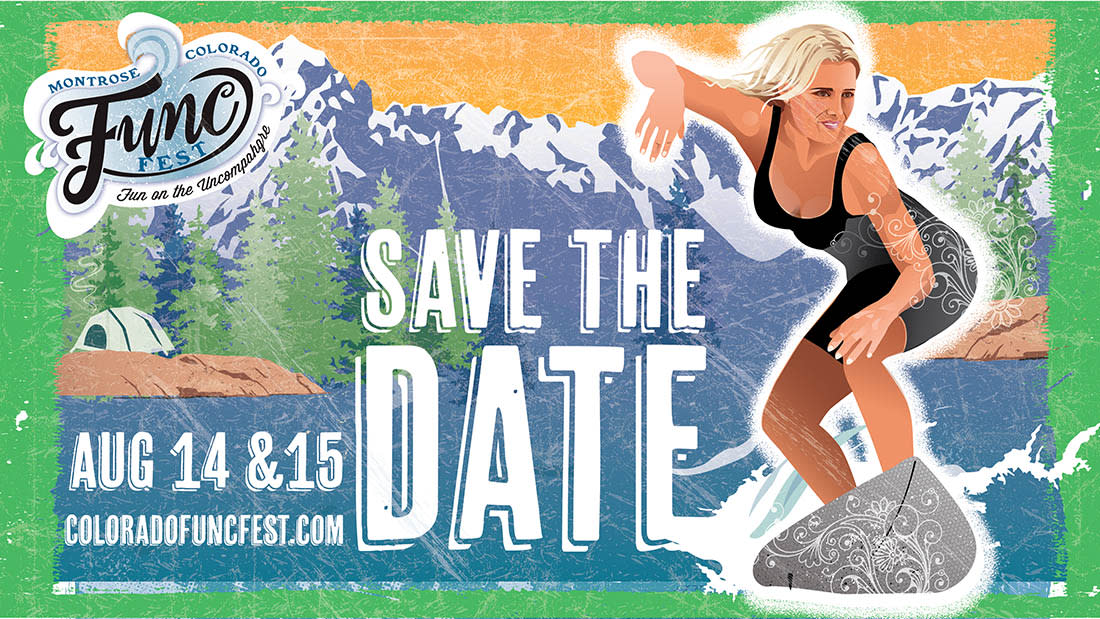 One day of FUNC-y fun just wasn't enough, so we've added another day to pack a little more excitement into the event. Join us on Friday for live music, food, and drink and camp out overnight for an early start for the full line-up of events on Saturday.
Open to all levels, water competitions on Saturday include a crowd-pleasing freestyle kayaking and surfing contest in the morning. The afternoon will feature stand up paddle (SUP) board cross and boatercross event that targets kayakers and SUP'ers. The public can bring their helmets and PFDs to take part in the FUNC-y River Parade. 
For those who prefer to stay dry and revel in land-based activities, the Colorado FUNC Fest offers food, beer, live music, and activities for all ages. 
FUNC-y Line-Up!
The Colorado FUNC Fest features a full schedule of fun entertainment. No admission fees. Check in on this website for a full listing of events as they are announced.
Make It a Camp-out!
This year's event features a unique opportunity to camp out in Riverbottom Park. Campsites are $20, available on a first-come, first-served basis. Campsite reservations can be made online as the event approaches or campers can register for a site at the event.
Unleash Your Competitive Side
Activities and competition on the water are a highlight of FUNC Fest. Competitive events at the Water Sports Park will begin Saturday, August 15 at 10 a.m. Awards will be at 5 p.m.
Rules for Water Event Participants
Waivers, helmets, and personal flotation devices required for all competitors and participants
Whitewater kayak class is limited to boats 10' and under
SUP class is limited to boards 11' and under
Cross-course description will be provided on event day by the race director
Have fun!
Vendors and Exhibitors Welcome
Great vendors make FUNC Fest event better! Add your wares, tasty food and drinks to the event by reserving a vendor space today. Check back for details or cal 970.240.1402.
About the Montrose Water Sports Park
The Water Sports Park (WSP), located on the Uncompahgre River in Riverbottom Park in the heart Montrose's premier parks complex, consists of 1,000 feet of river channel. The WSP is one of the largest in the state of Colorado and one of the few in the U.S. to be accessible by ADA standards. Designed with all citizens in mind, from ankle waders to expert kayakers, the WSP is complemented by terraced spectator and beach areas, allowing a safe space for viewing right on the river. Sustained irrigation flows on the Uncompahgre River make the park an enticing destination through late summer, long after other parks have lost their luster.
Get More Info!