Horseback Riding
There is something different and special about seeing Colorado's diverse landscape and astounding natural wonders from horseback. The quiet, steady pace of a trusty horse amid serene backcountry panoramas calms the mind and rejuvenates the soul. Montrose was settled on horseback, and numerous trails and secret places were cut by hooves, not wheels. The Old West still lives in this part of southwest Colorado, and to experience it authentically and naturally, horseback is the only way to go.
 
The Bureau of Land Management (BLM) Uncompahgre Field Office in Montrose manages more than 900,000 acres of public land in the area, much of it considered superb equestrian terrain.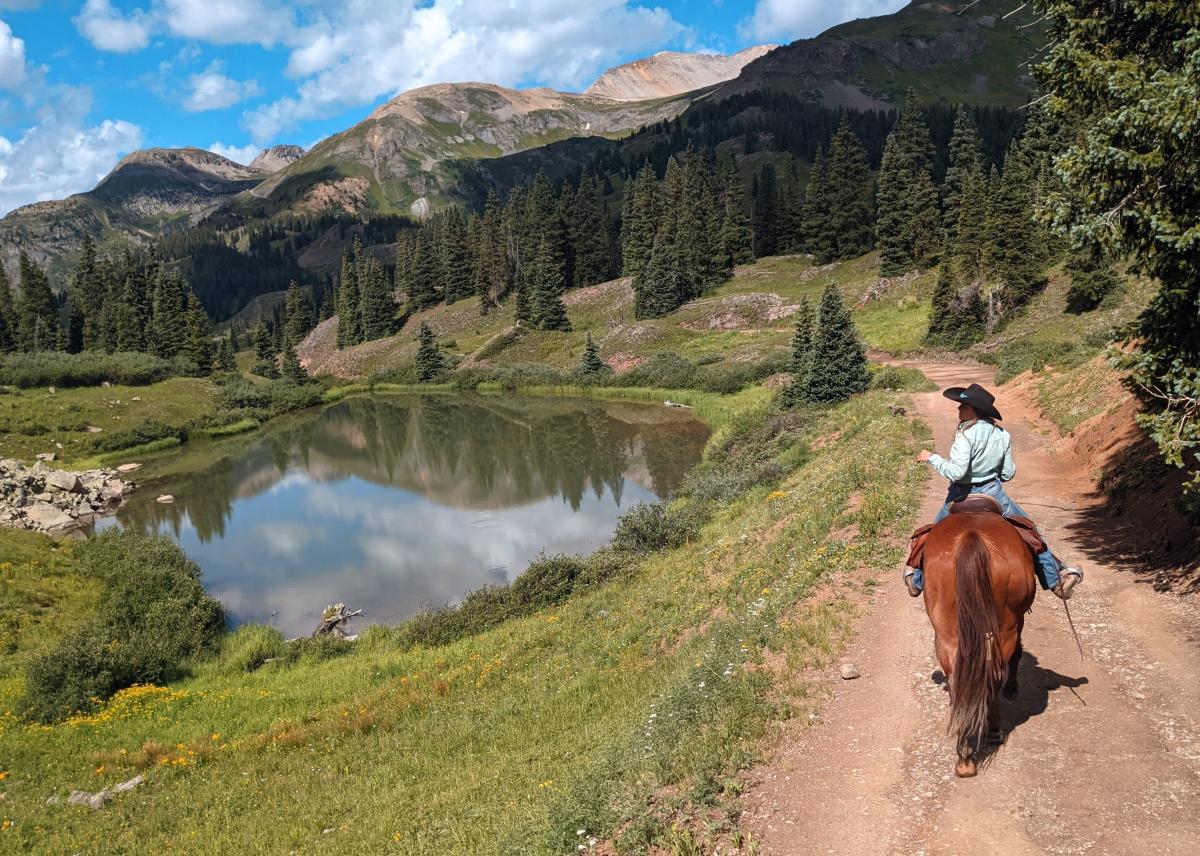 Gunnison Gorge National Conservation Area
For travelers who tote along their own equine companions, Montrose is an ideal place to base rides into the high-mountain country and to arid, red-rock canyons. Several good equestrian trails in the Gunnison Gorge National Conservation Area (GGNCA) including Ute and Sunset Rocks provide excellent options close to town. Please note that guests may only bring weed-free certified hay into the designated wilderness area portions of the GGNCA.  
National Forest Lands
The Grand Mesa, Uncompahgre, and Gunnison National Forests provide more than 3,500 miles of summer trails just a short drive from Montrose, making for wonderful day trips. Hundreds of forest trails will have horseback riders meandering through alpine meadows, crossing creeks and runoffs, and marveling at close-up views of the area's mountain peaks. The forests also provide developed campgrounds with accommodations for horse camping. Horses are allowed on hiking trails unless designated as foot trails only. The BLM provides detailed information on campgrounds, both online and at the Montrose Public Lands Center (2505 South Townsend Avenue). San Juan National Forest also offers phenomenal horseback riding opportunities.
Dominguez-Escalante National Conservation Area
History and wilderness take intertwining paths when the trails of the Dominguez Canyon Wilderness are explored by horseback. The Dominguez Canyon Wilderness lies at the heart of the Dominguez-Escalante National Conservation Area in red rock canyons and high-walled sandstone bluffs. Long used by American Indians, the canyon landscapes of this wilderness are stunning both for their unique natural features as well as their ancient rock art.  
The Little Dominguez and Big Dominguez Creeks flow through the arid desert, dropping over waterfalls and into clear pools. Alongside the creeks are two excellent equine trails that will take riders deep into this wild land. Turnpikes and check steps accommodate horseback travel so the only thing riders will need to focus on is the adventure that lies ahead.  

The Dominguez Canyon Wilderness is most easily accessed from Montrose via U.S. Highway 50 North to Bridgeport Road on the left, a 40-minute drive from Montrose. Turn onto the gravel road and follow it for another three miles to the parking area at the Gunnison River.  
Black Canyon National Park
Deadhorse Trail on the North Rim of Black Canyon National Park is the only area at the park open to horses or pack animals for day use, recreational riding. No permit is required to take in the spectacular views on this easy-to-moderate trail. Keep in mind that horses must be trailered to the trailhead at Kneeling Camel Overlook. Trailers must be parked at this overlook as well.

Deadhorse Trail is located at the east end of the North Rim Road, near the Kneeling Camel Overlook, and has a round-trip distance of 5 miles. The first part of the trail follows an old service road and, after 3/4-mile, passes a stock pond that is usually dry. Continue another 1 1/2 miles to the stock fence, turn right, and ride 1/4 mile along the fence until the canyon's rim. Deadhorse Gulch is reached via the large side drainage located east of the trail's end. There are no facilities at Black Canyon National Park for horses or pack animals, so be prepared to bring everything you need for the trail. Certified weed-free feed is required for horses on federal lands.
Horseback travel in Colorado's incomparable wilderness and vast public lands offers more than a chance to see the sights. It is a chance to see the beauty of the area in the same way as those who first forged a path to the area. It is a chance to experience the Old West.