Colorado National Parks Loop
It should come as no surprise that Colorado ranks high among the most popular states to visit in every season. When travelers hear "Colorado" they imagine themselves hiking sun-soaked trails that meander through majestic mountains and along sparkling lakes, gliding down crisp, powder-laden glades, fishing crystal clear streams, and basking in the warm glow of a campfire under a sparkling canopy of stars.

One of the best ways to experience the wonders of this exceptional state is to make a loop of its remarkable national parks and monuments while discovering travel treasures of your own along the way.
Connecting with Colorado - Through Montrose
We have to be honest – while we acknowledge a not-so-subtle bias, the Colorado that travelers see in their mind's eye is best represented on the Western Slope of Colorado. And who would have guessed that Montrose, a relatively small community set smack-dab in the middle of it, would have a regional airport second only to Denver International Airport for connecting flights? With direct air service to more than a dozen major U.S. cities, Montrose is easy to reach from virtually anywhere in the world. No crowds, little traffic, convenient access to remarkable destinations, and a low-stress, small-airport experience round out an already enticing list of reasons to base your loop of Colorado highlights right out of this charming community.
Beginning the Journey at the Steep and Deep Black Canyon
Black Canyon National Park, named for the dramatic, deep gorge carved by the Gunnison River over the course of 1.7 billion years, is quite an attraction to have just 20 minutes from Main Street Montrose. The canyon walls are so tall and narrow that portions of the bottom of the gorge receive only minutes of direct sunlight each day. It's hard to believe that the park isn't more heavily traveled — the vistas are absolutely jaw-dropping. But the low-key nature of The Black, as some locals refer to the park, is a key ingredient of the canyon's magic sauce, allowing a respite from a more structured life and an occasion to reconnect with a more natural one. This undiscovered gem will provide a new appreciation for the power of nature.
Take a scenic drive along the canyon's South Rim and pull off at the overlooks, each offering a unique panorama and dizzying views of the river far below. For avid anglers, nearby Gunnison Gorge National Conservation Area offers Gold Medal trout fishing on the Gunnison River. Outdoor activities include horseback riding, rock climbing, wildlife viewing, camping, biking, and hiking; winter brings snowy fun from sledding to cross-country skiing to snowshoeing. Ranger-led programs and guided tours are excellent ways to learn about the park from experts. As night falls, you can watch the twinkling ribbon of the Milky Way rise into the sky at the Black Canyon, an International Dark Sky Park. 
Camp overnight or go for more modern lodging in town and be sure to get a good night's rest for a day trip to Grand Junction and the Colorado National Monument.
 
Grand Junction: Naturally Dramatic
Vast, largely undeveloped plains line the path to Grand Junction, home of the Colorado National Monument, an incredibly photogenic and pleasingly different side of Colorado. The monument's deep canyons, scenic outlooks, and red rock spires are unlike anything else you will find in the state. And as with the Black Canyon, the monument is particularly radiant at sunrise and sunset when the sun's shallow rays illuminate the red and orange hues in the sandstone formations.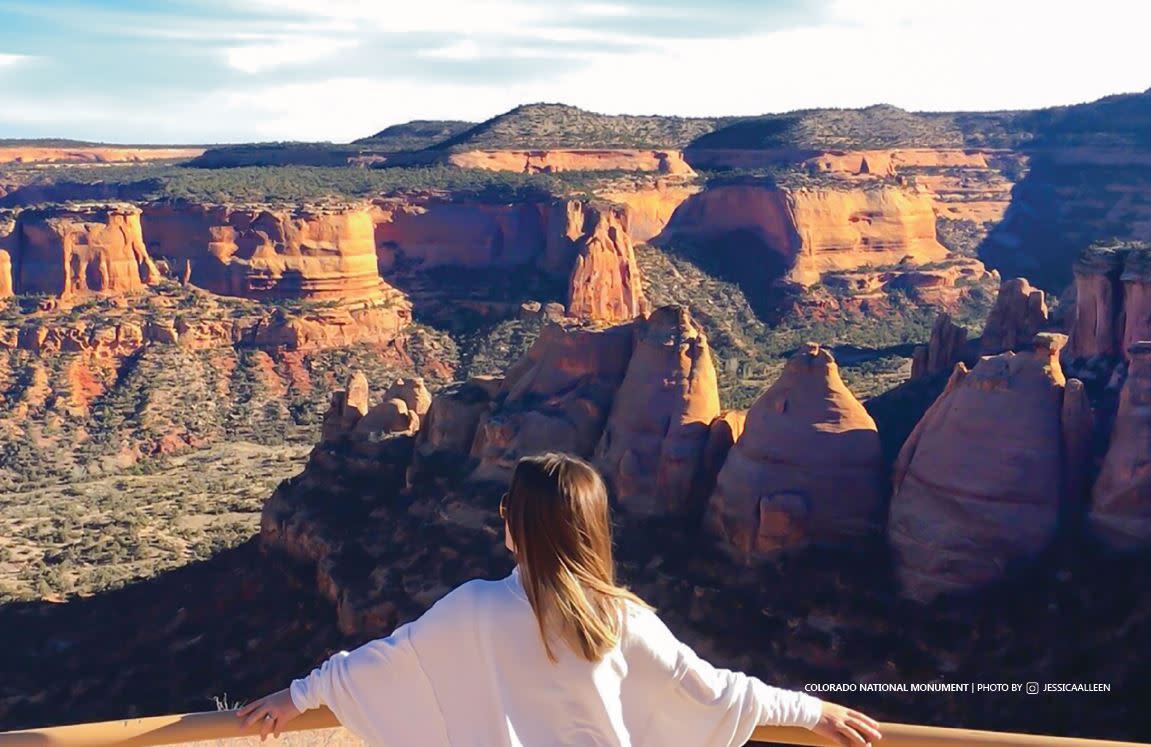 In addition to exploring a variety of hiking trails, many visitors drive or bike the scenic 23-mile Rim Rock Drive. It's a challenging route, but the views are truly stunning. Reserve some energy and some daylight for the short drive back to Montrose. You're in for a real treat at your next destination, Mesa Verde. 
 
Mesa Verde: Discover Ancient Pueblo Indian Culture
The drive from Montrose through the San Juan National Forest passes near the legendary ski resort at Telluride. Stop in the town of Dolores to stretch your legs and visit the Anasazi Heritage Center, dedicated to the history of the Ancient Puebloan, Ute, and Navajo Native Americans – it's the perfect preview to Mesa Verde National Park, home to some of the best-preserved, Ancient Puebloan cliff dwellings.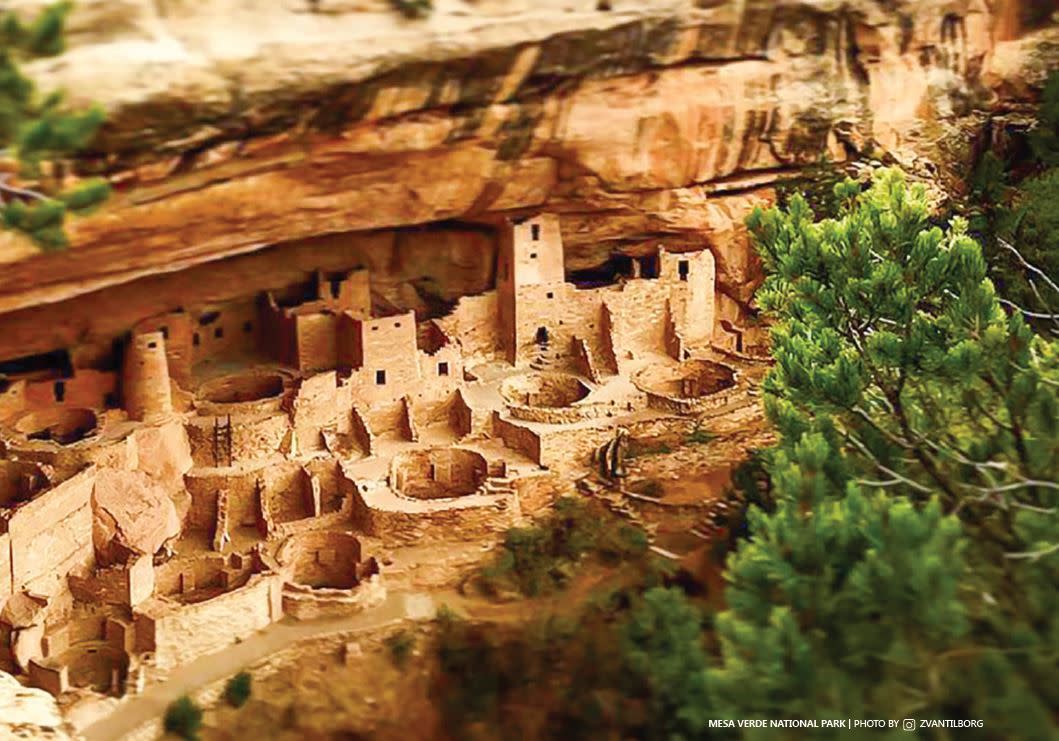 Make arrangements for overnight accommodations here since you'll likely be heading to Alamosa after your stay. Purchase tickets at the park's visitor center for the Cliff Palace tour, the park's largest cliff dwelling, or the Balcony House tour, an incredible adventure that will have you climbing ladders and crawling through tunnels. You can also opt for the self-guided driving tour on Mesa Top Loop Road, featuring 12 scenic overlooks on the 6-mile loop.
Keep an eye out for some of the park's diverse wildlife: deer, coyote, foxes, elk, and exotic reptiles among them. If you're visiting between April and October, make reservations at the Far View Lodge. The sweeping views of the desert and colorful sunsets can't be beat. There's no cell service and no TVs. If it weren't for the free Wi-Fi, it would be a true off-the-grid experience. 
 
Great Sand Dunes National Park: Real and Laid-back
About halfway between Mesa Verde and Alamosa is Pagosa Springs, the world's deepest geothermal hot springs — set aside an extra couple of hours to experience the rejuvenating waters. Your next stop is Alamosa, home to Great Sand Dunes National Park and the tallest sand dunes in North America.
It's difficult to do justice to the unusual scenery here; the massive dunes are surrounded by evergreen spruce and pine forests, wetlands, grassy plains, and towering 13,000 foot (3,900-meter) mountain peaks. Don't miss a chance to experience sandboarding or sandsledding. You can rent equipment outside of the park.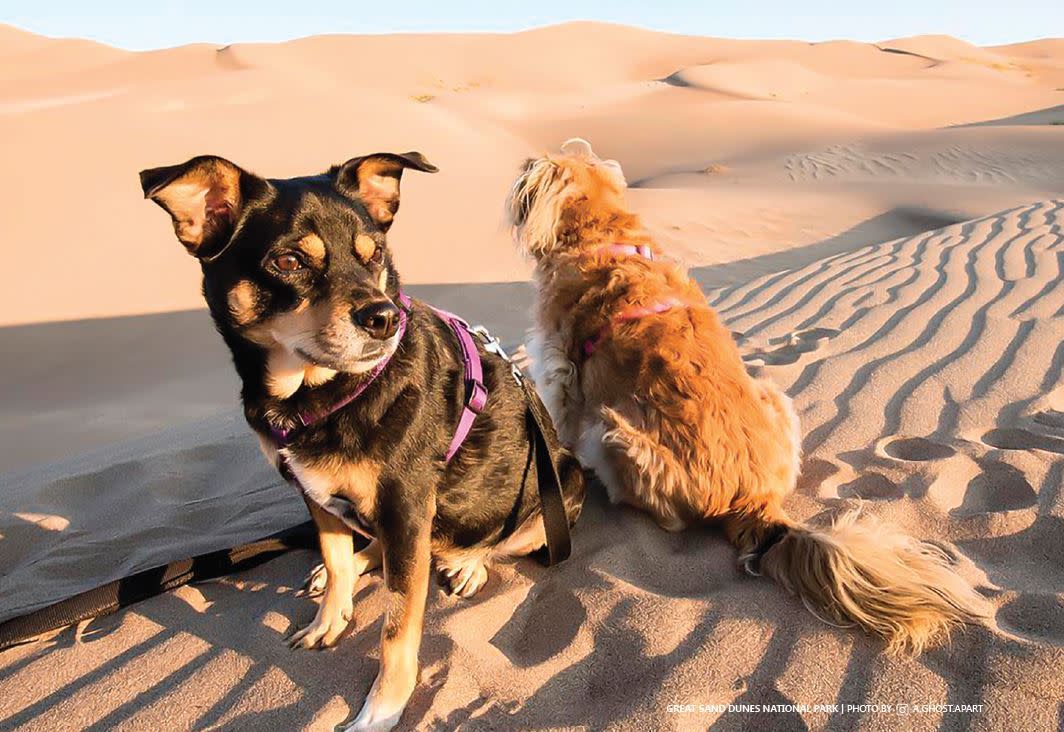 The weather – especially the wind – changes quite a bit here: Your best bet is to hike the dunes early in the morning, then plan for a forest hike and cooling off afterward in Medano Creek (depending on seasonal water flow). Enjoy a hike at Zapata Falls and soak in the stunning views of the dunes and San Luis Valley before checking in to your room and preparing for tomorrow's drive to Rocky Mountain National Park (RMNP).
Take your pick of several possible routes north to your next loop destination, RMNP. Visited by millions of people each year, the park is one of the USA's natural treasures and the fourth most visited national park in the country. 
Rocky Mountain National Park: Outdoor Adventure for All
Estes Park, known as the base camp for RMNP, has a lovely walkable downtown that's home to assorted restaurants, unique shops, and festive events. The mountain views from the town's outdoor patios are breathtaking, and wildlife sightings are plentiful. Park your rental car since convenient (and complimentary) shuttles transport you around town and into RMNP.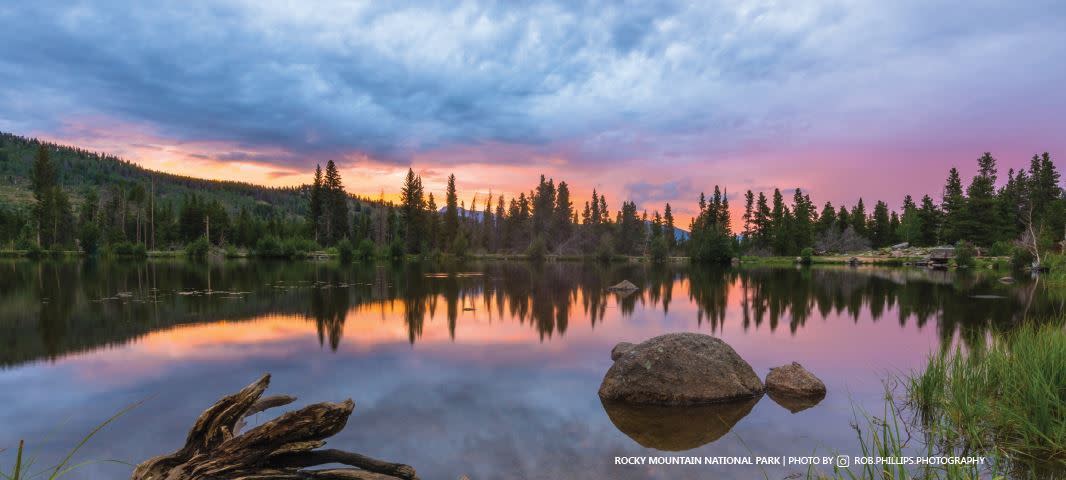 Trail Ridge Road, RMNP's "highway to the sky" crosses the Continental Divide between Estes Park and Grand Lake and transitions from thick forest to windy tundra above the tree line at 12,000 feet (3,700 meters) elevation. The road closes in the winter, but the community of Grand Lake is easily accessible by alternate routes.
Grand Lake is considered the western gateway to RMNP, and you can expect an equal abundance of activities in nature. Winter sports are especially noteworthy, including snowshoeing, Nordic skiing, and ice fishing, but the snowmobiling is so epic, it's known as the snowmobiling capital of Colorado. Local outfitters offer rentals and guided tours of 300 miles (482 kilometers) of groomed and backcountry trails. Even the town streets are designated snowmobiling trails in the winter. When the snow melts, enjoy the plethora of warm-weather fun at Colorado's largest natural lake, along with gorgeous views of Mount Craig as a backdrop. 
 
Picking Your Route Back Home
The National Park Loop leads travelers through a high-density selection of many of the premier Colorado destinations. Expanding the scope of your experience is as simple as adjusting or extending your route to include treks further from the primary routes. From Estes Park, choose a quick route home via flights from Denver International Airport, or take a couple extra days to investigate more Colorado wonders on your way back to a return flight from Montrose.