Montrose: The Epicenter of
Whitewater Fun
Get a dose of waterborne excitement just minutes from Main Street at the new Montrose Water Sports Park!

Designed to delight an array of visitors – from ankle waders to expert kayakers – the park includes six drop structures, ADA-accessible put-in and take-out ramps, and terraced spectator and beach areas to watch the action while soaking up a little sun. Six different waves in the Montrose Water Sports Park offer a challenge to any skill level. The park is quickly becoming known as a river surfing destination as well.

Consistent Uncompahgre River flows that supply agriculture uses downstream of the park guarantee great "water-tainment" through late summer.

Located in Riverbottom Park in close proximity to picnic areas, playgrounds, ball fields, recreation trails, a disc-golf course, a skate park, and other attractions in Montrose's premier park complex, the park offers another great place to exercise, socialize, recreate, rejuvenate, relax, and reflect on the many reasons to visit Montrose.
Real-time River Flow Info:
Essentials
Board & Paddle: Boards come in hard shell or inflatable form. Inflatables are easier to transport and store, so if you're planning to rent a board for a period of time and travel around with it, consider this option.
Personal Flotation Device (PFD): This will keep your head above water and potentially save your life. There are typically five types of PFDs and Type III is the most suitable for paddleboarding.
Helmet: If you're venturing out in the Water Sports Park, a helmet is strongly recommended.
Shoes: For creeks and rivers you should consider wearing shoes or wetsuit boots.
Wetsuit: A wetsuit is designed to keep you warm when immersed in water. They come in various thicknesses for different weather and climates. The colder the water, the thicker your wetsuit needs to be.
Drysuit: If you'd like to stay dry or are paddling in waters below 45oF, you may want to wear a drysuit. This will keep you completely dry but you will also need to wear appropriate base layers underneath in order to stay warm.
Sun Protection: If you're paddling in summer, you can either use waterproof sunscreen or opt for
a rash guard or similar piece of clothing to protect your skin from the sun.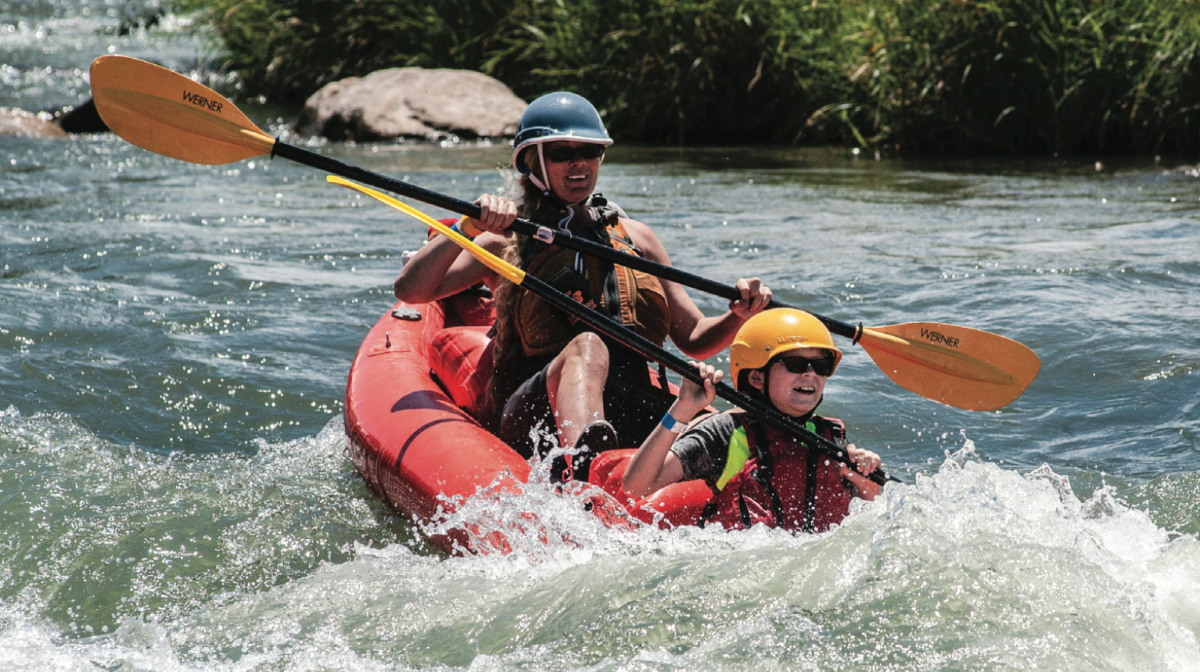 By now you may have Googled "best stand up paddleboarding in Colorado" and the search has turned up ho-hum results, mostly links to "best places" in the state that do not include Western Colorado. Leave the confines of Google and put Montrose on your hit list.
Montrose serves as a trailhead for some pretty incredible stand up paddle boarding venues. If you are into river SUP, Montrose is home to one of the best whitewater parks in the American West. A sustained summertime flow from irrigation water means the Uncompahgre River — which flows through the park — never runs low. The park's season stretches from March through November, with peak flows from May through August. 
If you are into lake SUP, Ridgway Reservoir at Ridgway State Park, just a 32-minute drive south, has calm water with views of the towering San Juan Mountains. Blue Mesa Reservoir, accessed via a 45-minute drive to the east, is Colorado's largest body of water.