Simms Mesa Loop (Trail #115.1a) is a wonderful winter location for snowshoeing. This trail begins at the Uncompahgre Forest Boundary on the east side of Dave Wood Road. You will find parking, signage, and the trailhead directly north of the parking area. Simms Mesa Loop winds through the beautiful landscape of the Uncompahgre National Forest.
After a fresh layer of snow at the end of February, I took my Golden Retriever, Timber, to meet up with my friends Sam and Eric and their two Miniature Schnauzers, Poe and Petunia. We decided it would be a beautiful day to go snowshoeing. What better way to play in the fresh snow without having to drive more than an hour away?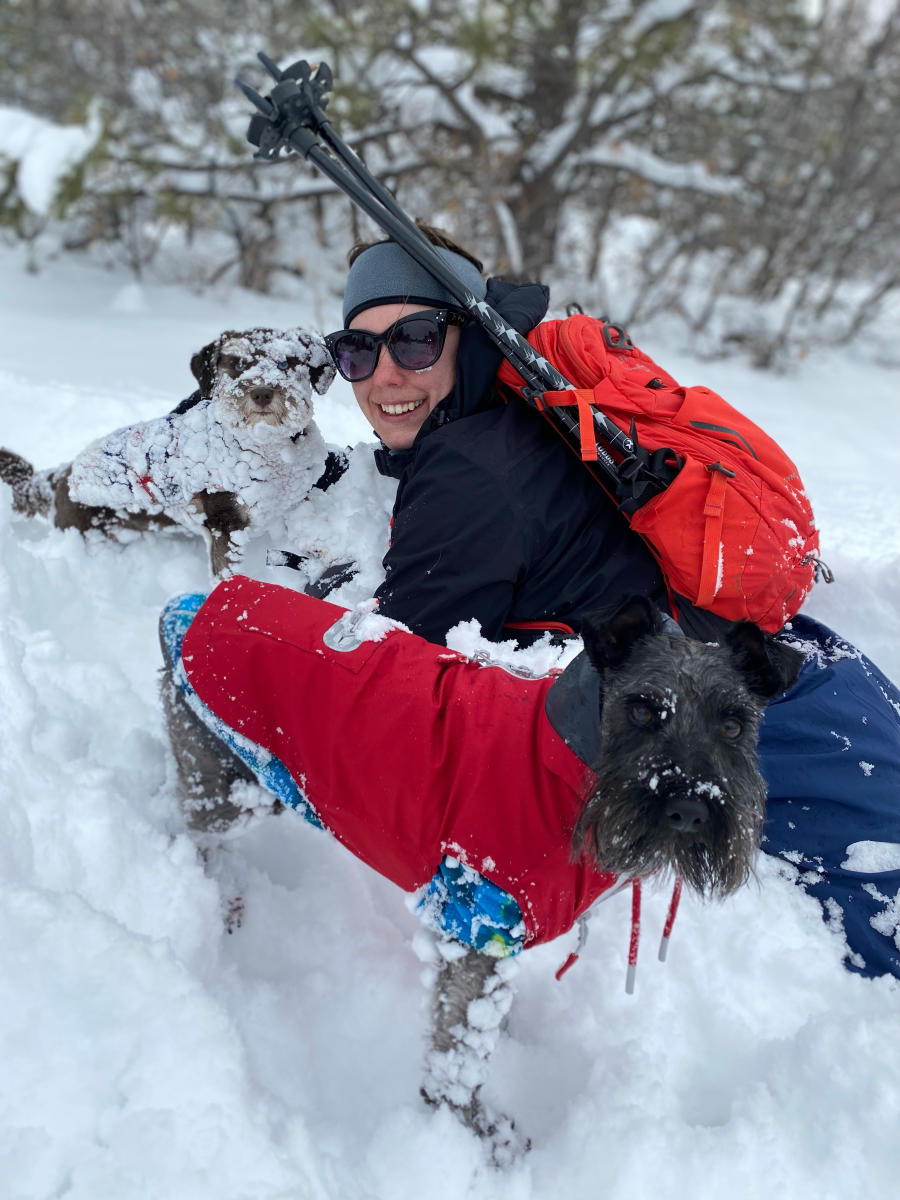 Getting the Gear
We went to downtown Montrose and rented our gear from The Great Outdoors. Renting snowshoes for a whole day only costs $15 per person! When you walk through the doors, be ready to be greeted by a wagging tail belonging to Bridger, the labrador mascot for the Great Outdoors Company. If you have a friendly dog, be sure to let them come visit too! All you need is a leash and they are welcome at any time.
Please note that Sports Rewind, located 10 minutes south of downtown Montrose, also rents snowshoes!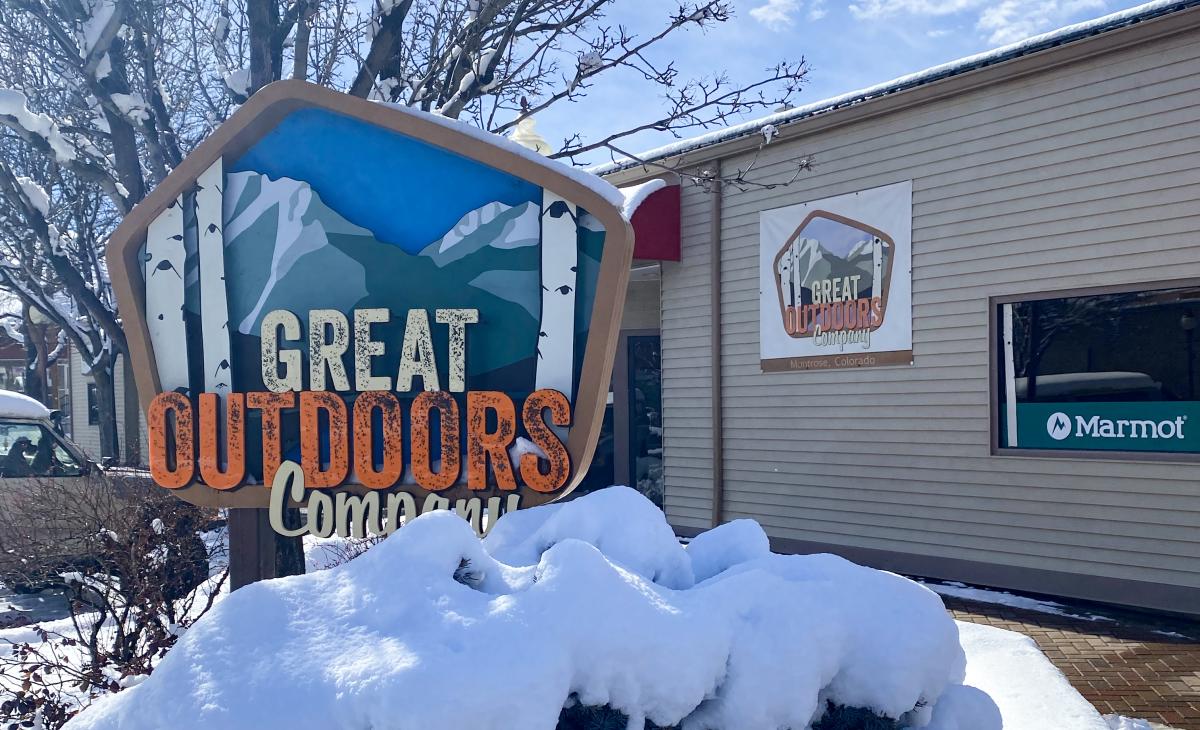 Steve, the owner of The Great Outdoors, assisted us in getting all of the right gear for the job. Once we were fitted, he explained how to use the poles and how to properly put on the snowshoes, all with a smile on his face.
On top of the snowshoes, we each packed snow boots, pants, and jackets to keep us warm in the cold weather. It is very important to bring more clothing than you think you need to in case it is extremely cold. Like momma always said, "It is better to have it and not need it than to need it and not have it." We each brought our own backpacks filled with water, snacks, the trail map from the Montrose Visitor Center, headlamps, an extra hat, and extra gloves. For our dogs we brought doggie poop bags, sweaters, water, leashes, and of course, treats.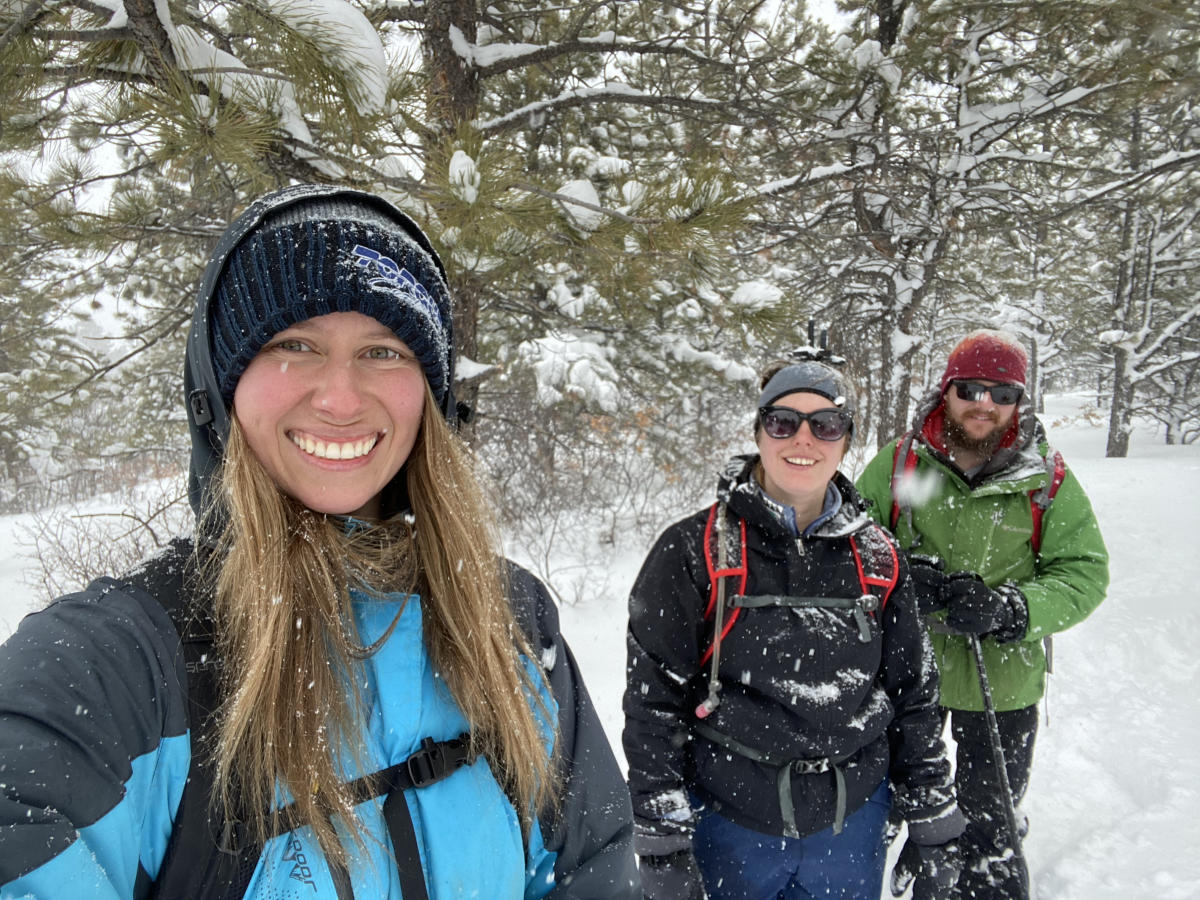 Getting There
If you are leaving town, head west on Spring Creek Road until you reach CO-90 at the top of the hill on Spring Creek Road. Take a left at that intersection. Drive that to a three-way intersection and take a right, following Highway 90. The next turn you will look for 6250 Rd in less than a half-mile. Keep following this road as it turns into Dave Wood Rd and the parking lot will be 10.5 miles up the plateau.
If you have a smartphone, simply search "Dave Wood Interpretive Trail" and Google Maps will guide you to the location.
If there is fresh snow, I would recommend an all-wheel or four-wheel-drive vehicle to get to the top. Otherwise, in the warmer months, a two-wheel-drive vehicle would work just fine.
I had cell phone service for the majority of the hike, but honestly, sometimes it is nice to switch it to airplane mode while you are out adventuring for peace, quiet, and to extend your battery life.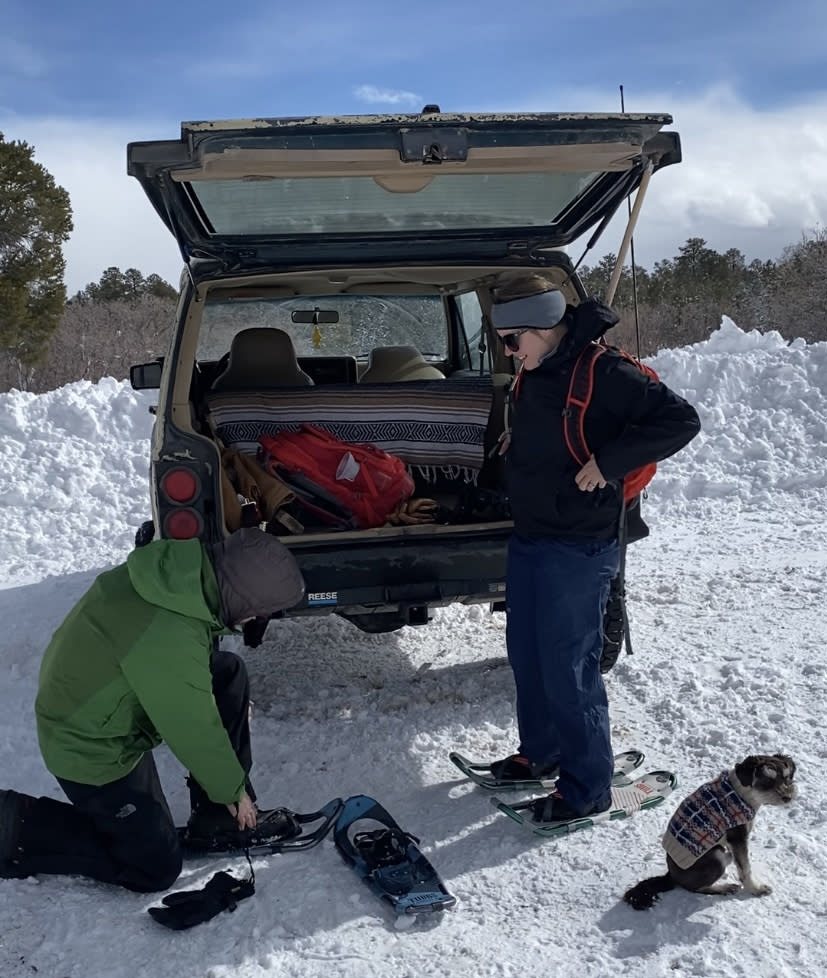 The Adventure
There are signs with maps and trail routes as you enter the area and it's a good idea to take a photo for reference just in case you need it later. We were the first ones to blaze the trail after the fresh snowfall we had gotten the day prior and it was the coolest feeling! Nothing beats seeing the white abyss untouched. The snow sank about eight to twelve inches with each step in the snowshoes. So it was pretty tiring if you were the one breaking trail. We ended up alternating who would lead, taking turns so we wouldn't get too tired out.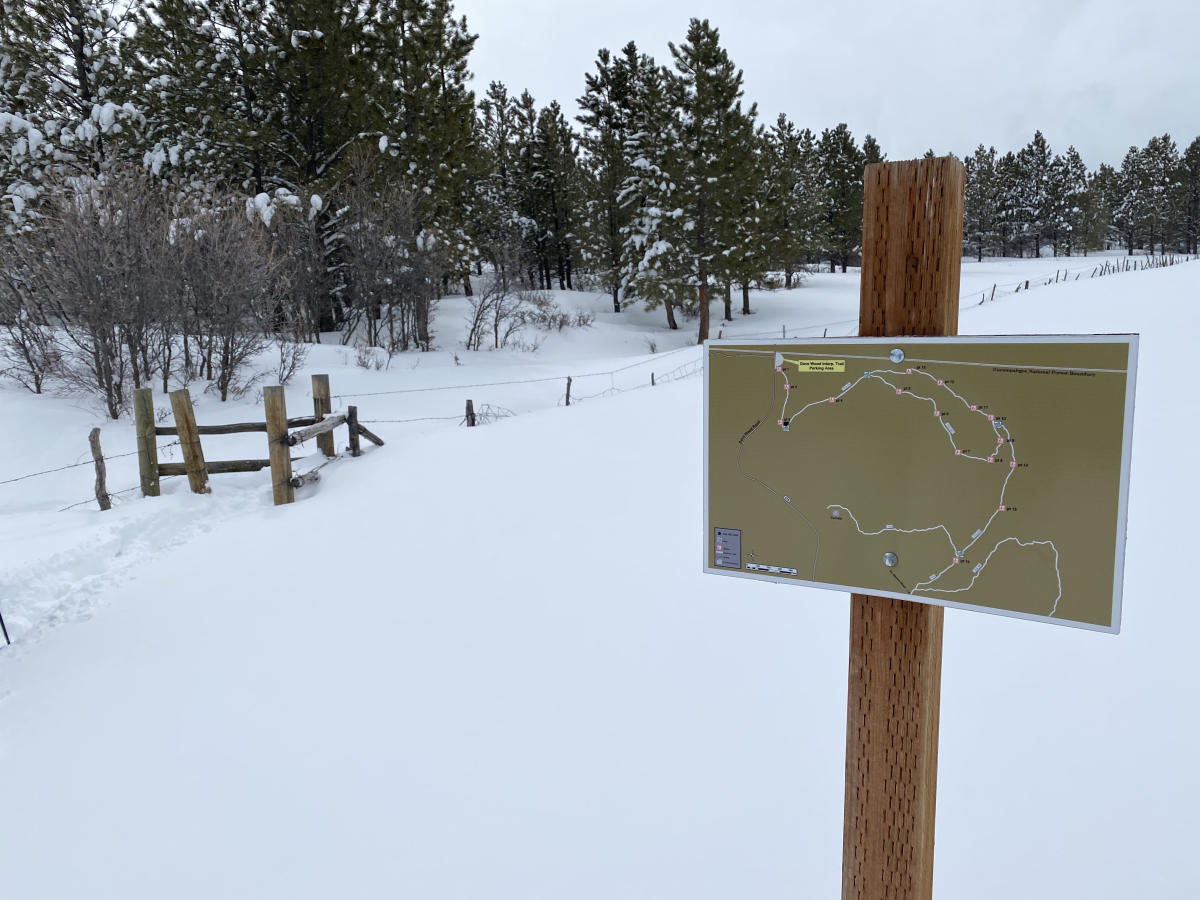 Once you are through the gate, keep left and follow the fence line for a while. You will know you are on the right path if you see numbered markers or just follow the marked trees. In our case, we knew if we were lost, we could always follow our freshly blazed trail back to the trail.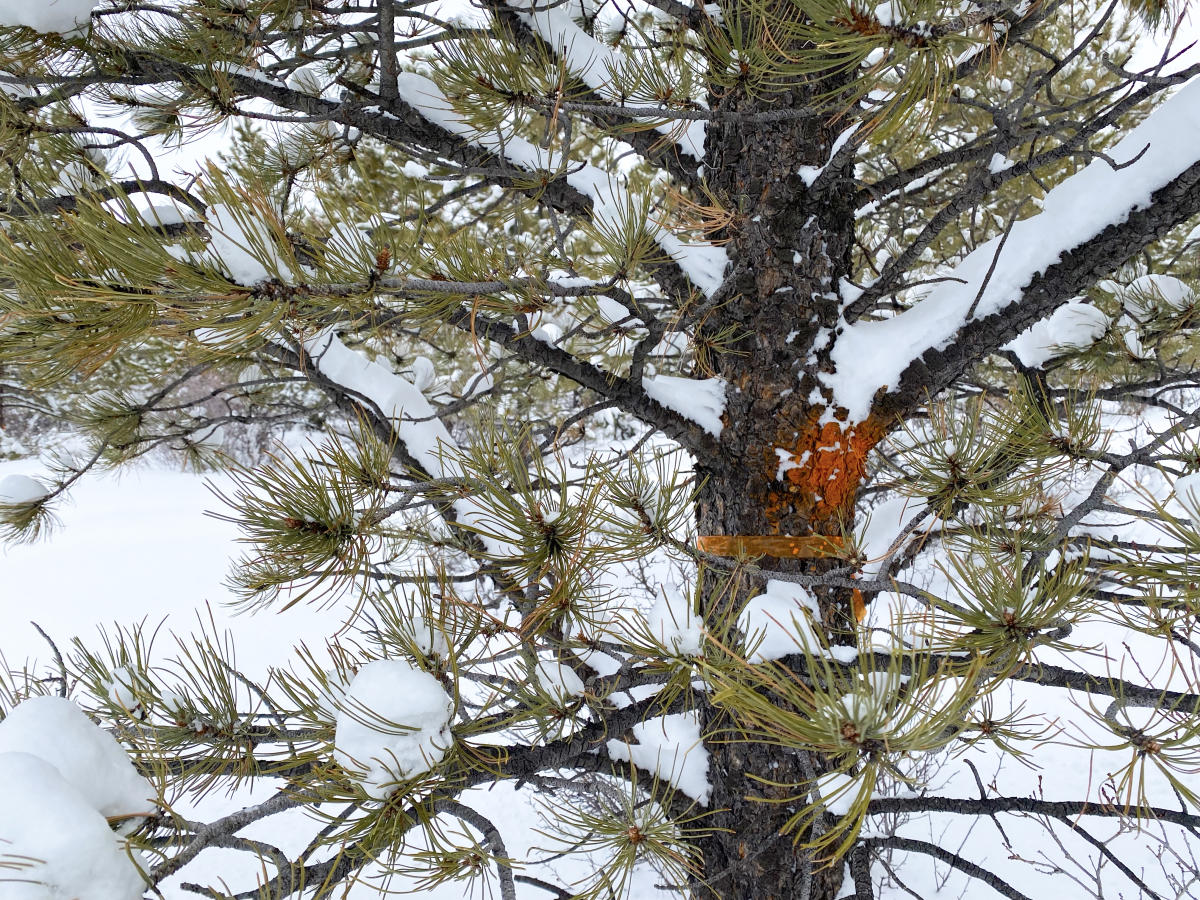 We didn't see anyone else on the trail the entire time, but we did see and hear the birds chirping through the pine needles of the trees as we trenched through the powder. My dog Timber is a snow fanatic - she loves eating, jumping, running, and digging her head in the snow so the depth didn't bother her or the cold temperature.
My friends' dog Poe had two layers of jackets on and he stayed warm, however, Petunia had to warm up after about 30 minutes, so Eric carried her in his doggie backpack that he got from Chow Down Pet Supplies. Once she warmed up, she was back in action! As long as Poe and Petunia stayed in our tracks they were able to walk just fine through the snow.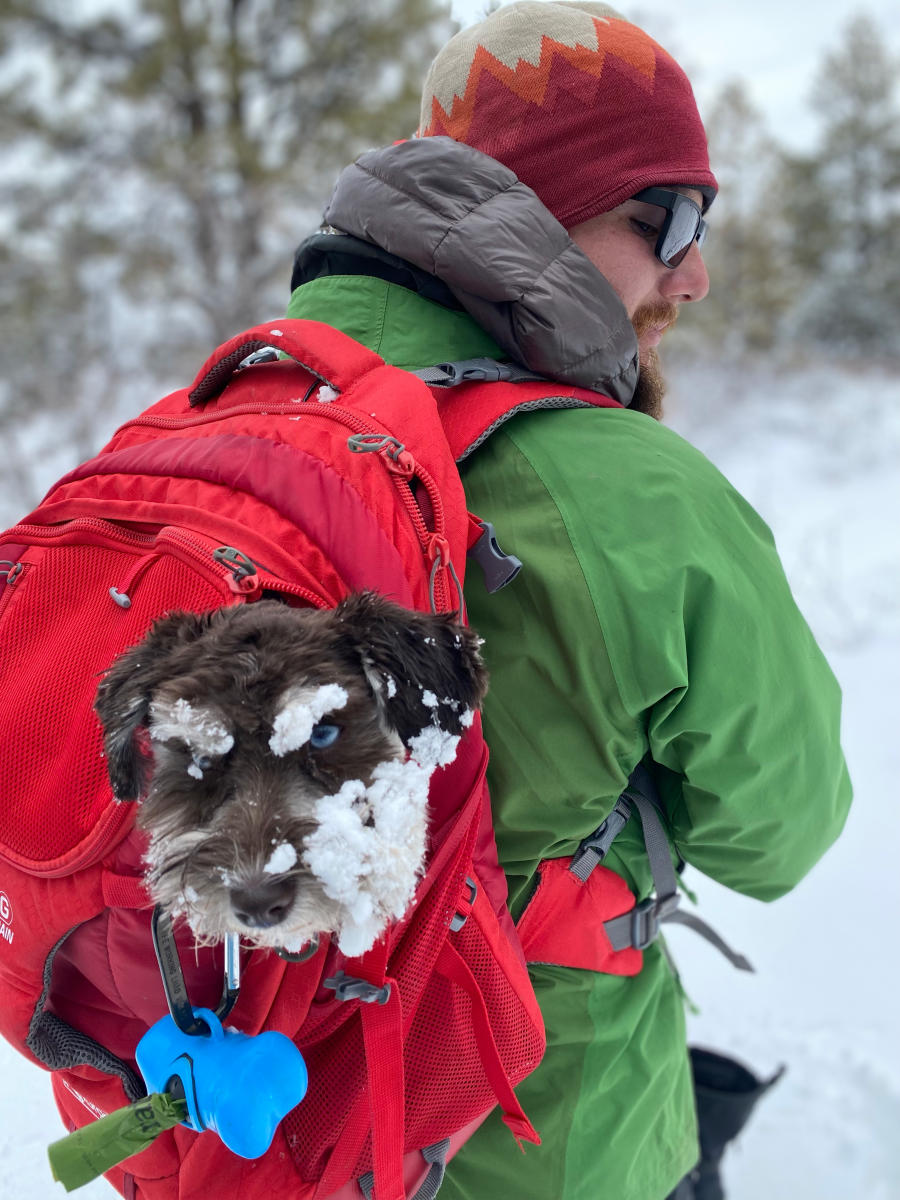 If you are someone looking for a fun day trip, look no further than Simms Mesa Loop. It is great for hikers of all abilities and is not a difficult hike. 
Always Remember
Tell someone where you are going and what time you expect to be back so that you can be found in the event of an emergency.
Care for Colorado
We kindly ask you to read up on Care for Colorado principles before exploring our beautiful state.
Know before you go | Check for road closures, look into trail conditions, and know the weather forecast. Always have a backup plan and come prepared with any gear or supplies you might need.
Stick to the trail | Stay on the designated trail to avoid trampling on delicate habitats. Keep nature natural and don't take shortcuts. Wearing proper footwear helps keep you on the trail no matter the conditions.
Leave it as you find it | Leave plants, rocks, and historical items as you find them so others can experience the joy of discovery. Treat all living things with respect, including plants and trees. Building structures and making your own campsites on public lands is not cool.
Trash the trash | Pick up any litter you may come across and pack out any trash that you packed in. If you have to go to the bathroom, make sure you're at least 200 feet from trails, water, and people. Based on the environment you're in, know whether to dig a cathole or bag up any waste to pack out with you.
Be careful with fire | Regardless of the season, Colorado's low humidity creates dry, dangerous conditions. Check the fire restrictions in the area you're traveling to and abide by them. 
Keep wildlife wild | Do not feed, approach, or touch wildlife.
Share the trail | Be considerate to other trail users and know who has the right of way. Silence cell phones and music on the trail so that nature's sounds can prevail.