For the perfect autumn vacation, plan your trip between September 15 and October 10 and relish in those prime-time leaf displays that southwest Colorado is known for. Imagine this: You're wearing your favorite flannel, the mountains are covered in golden aspens, you're drinking warm apple cider, and your favorite playlist is blasting through the speakers. If this sounds like the kind of vacation you're craving, it's time to start plotting that fall road trip around Montrose. Some of the most scenic highways and byways in the United States cut across the Western Slope of Colorado AND the best leaf-peeping in the state exists here. It's a magical season when wildlife is migrating, temperatures are dropping, and colorful Colorado is living up to its name. Before you head out for a day of fall-tivities, gas up your vehicle and be sure to stop by a
local coffee shop
to prepare with a warm cup of apple cider, a pumpkin spice latte, or whatever beverage your sweet tooth desires. Make sure your camera or phone is charged up because you'll need that battery life! Here are a few of our favorite drives for aspen viewing:
The San Juan Skyway
Drive south from Montrose through Ridgway, Telluride, Durango, Silverton, and Ouray on this majestic loop through the San Juan Mountains. Stare in awe at 14,000-foot peaks, soak in hot springs, keep your eyes peeled for wildlife, and marvel at the beautiful rivers that snake through these mountain towns. All vehicles are capable of this drive.

Grand Mesa National Forest
A relaxing drive up to the top of the world's largest flat-top mountain provides stunning fall colors sprinkled along the banks of countless lakes. Plenty of hiking and fishing opportunities will present themselves along this route. A detour to Paonia on your way back to Montrose will land you at
Big B's
, an orchard store, cafe, and taproom that brings all of the fall vibes. All vehicles are capable of this drive.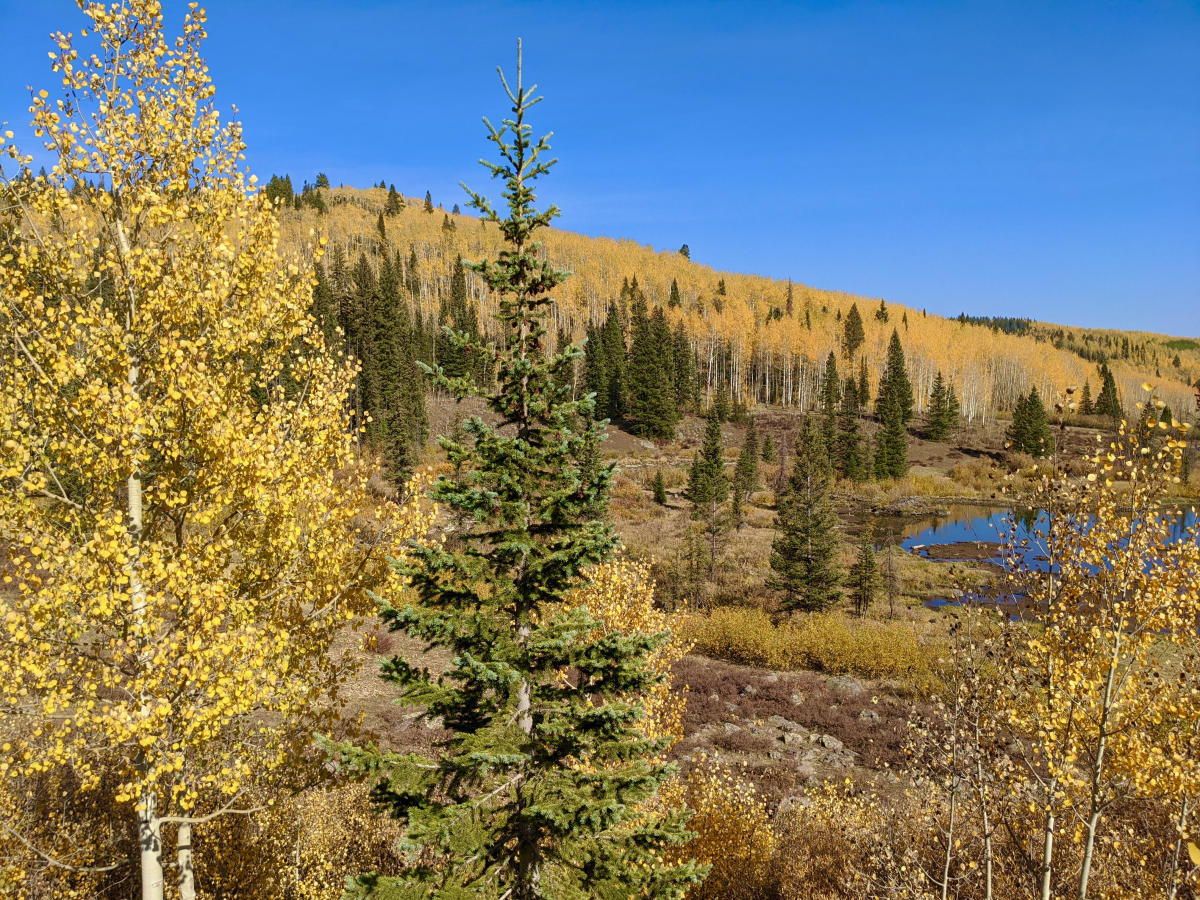 Dallas Divide
The Dallas Divide is about 35 minutes south of Montrose, between Ridgway and Placerville, and is a magical area with unparalleled views. Fashion mogul Ralph Lauren couldn't get enough of the scenery so he purchased a 17,000-acre ranch here. The sight of 14,000 ft tall Mt. Sneffels is enough to captivate in any season, let alone when the valleys are lit up with yellow hues in the glistening southwest sunshine. There's a phenomenal overlook off of CO-62 on the southern side of the road. All vehicles are capable of this drive. You can opt for a dirt road adventure down Last Dollar Road, off of CO-62, but a high clearance vehicle is recommended.

Photo Credit: @CandysCaptures

Owl Creek Pass
This drive can be done in a loop leaving Montrose and heading east toward Cimarron, then taking a right turn onto Cimarron Road which leads you up a winding dirt road, past ranches, Silver Jack Reservoir, and Chimney Peak, a filming location for western movie True Grit. The aspen forests, rivers, and mountains will absolutely not disappoint. Take Owl Creek Pass down toward the town of Ridgway and return to Montrose on Hwy 550. This day trip can be done in all vehicles as the dirt road is well-maintained.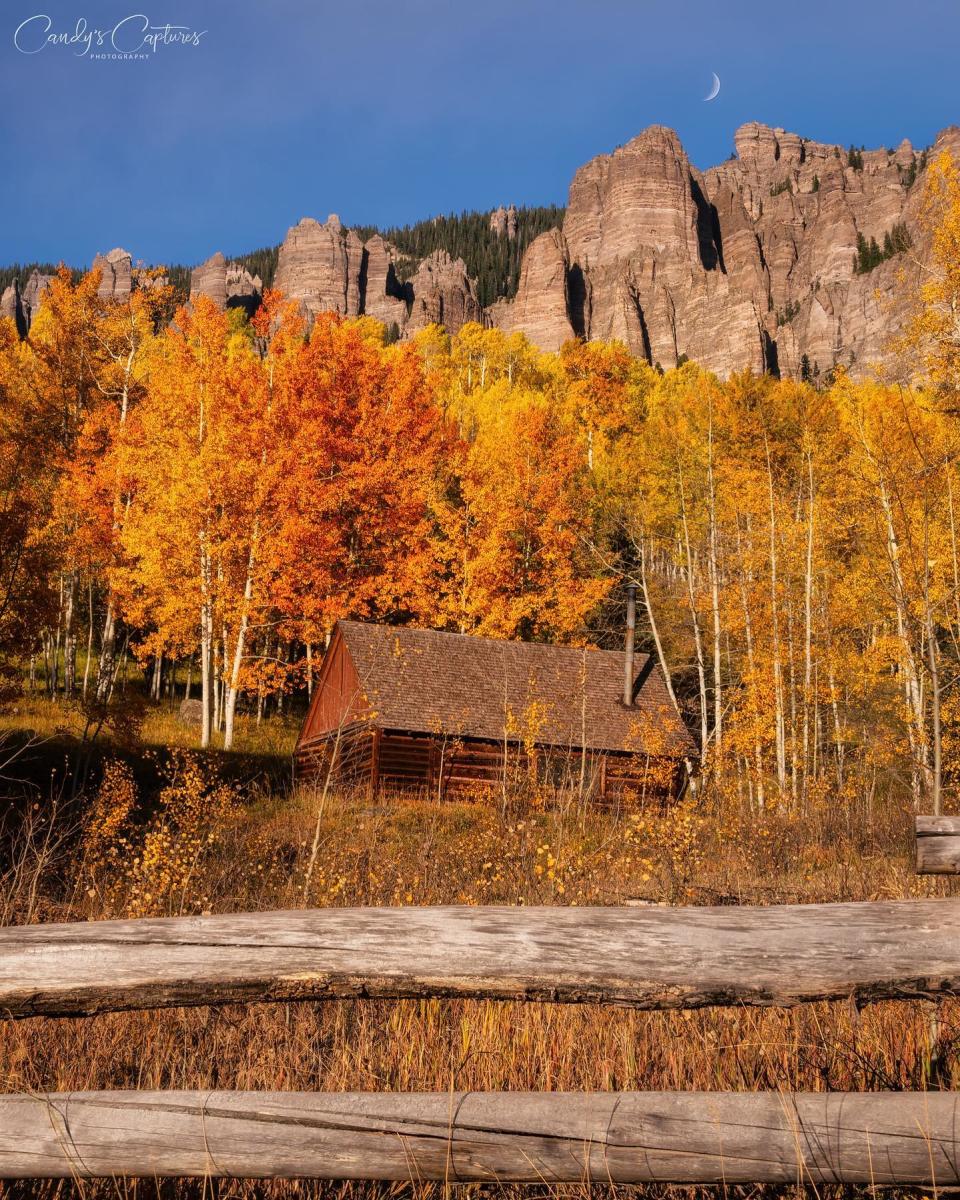 Photo Credit: @CandysCaptures
Leaf-Peeping 101
Traffic is likely to increase, especially on weekends.
Park in safe and designated spots.
Do not stand in the roadway.
Stay alert for wildlife.
Find a safe place to take photos away from cliffs and roads.
Take nothing but pictures, leave nothing but footprints.
Anticipate slow drivers and frequent braking.