Morrow Point Boat Tour
TOURS CANCELLED FOR SUMMER 2022
Due to the complexities of the construction project on Highway 50 and the complete removal and renovation of the Pine Creek Dock during the summer of 2021, the Morrow Point Boat Tour will not be running during the 2022 season. The National Park Service looks forward to continuing this service in 2023.
Enjoy a 1.5 hour guided pontoon boat tour that takes you on a scenic journey along the upper reaches of Morrow Point Reservoir, the beginning of Black Canyon National Park. Glide past beautiful Chipeta Falls and the historic Curecanti Needle as National Park Service rangers relate fascinating details about the history, geology and ecology of the area.
 
The Journey
The Morrow Point Boat Tour experience begins with a hike down Pine Creek Trail, which descends a series of 232 stairs to the canyon floor where visitors then enjoy a ¾ mile walk along the historic Denver and Rio Grande Western Railroad grade that once made its way along the Gunnison River. Interpretive signs along the way provide interesting facts about the canyon and an opportunity to appreciate the beauty and serenity of the canyon. Upon arriving at the Pine Creek Boat Dock, you will receive a brief safety presentation and then board a 42-passenger pontoon boat.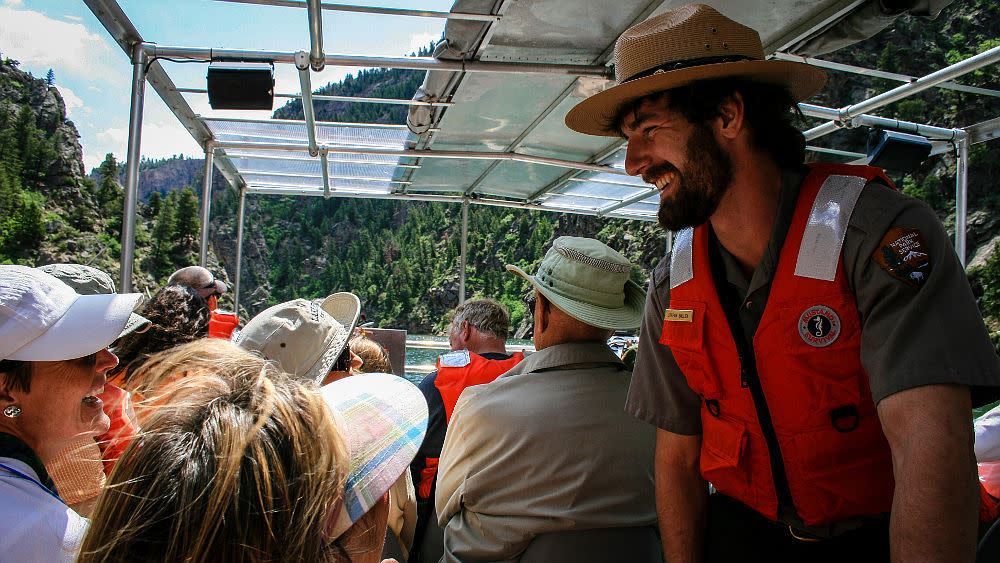 Be sure to allow plenty of time for a leisurely hike to the boat dock and plan to arrive 15 minutes prior to the scheduled departure time. Don't forget to bring a light jacket, hat, sunscreen and, of course, your camera. 
 
Operating Schedule
Schedule: Departures at 10:00 a.m. and 12:30 p.m., Wednesday through Monday. Tours operate from early June to early September. 
 
Cost
$24.00 - Adults
$12.00 - All children 12 and under (Children need to be 35 pounds or heavier) 
 
Reservations
Advance reservations are required. Reservations cannot be made at the boat launch and walk-ons are not allowed. The tour is a popular attraction so we recommend that you make reservations well in advance of your desired tour date. Visit the National Park Service website or call (970) 641-2337, ext. 205.

If you are unable to get reservations for the boat tour, you can still enjoy fishing, picnicking and hiking along the river trail. Small boats and rafts can be launched in the canyon area to access Morrow Point Reservoir, but keep in mind that equipment must be carried to the river. Also, river currents leading into the reservoir make for a leisurely float downstream but a more difficult return up the canyon. Water current strength can vary based on changes in water releases from upstream water storage structures.

Pets are not allowed on the tour.
 
Directions
Travel 38 miles east from Montrose on US-50 to the Pine Creek turnoff near mile marker 130 and travel a short distance to the parking area. 

Take in a few extra sites while on the way to or from the tour:
Location Map for Pine Creek Turnoff