Hiking at the Black Canyon
Hiking is a great way to experience the Black Canyon at its best. Unique perspectives of the canyon, enhanced wildlife viewing, and solitude await those willing to venture out on foot. Hikes can range from short, easy treks to rugged overnight excursions that will test your mettle. 
Hikes along the Canyon Rim
In addition to numerous short hikes to lookouts along the north and south rims, there are seven designated nature hikes (four on the South Rim and three on the North Rim) ranging in round-trip distance from .3 to 7 miles. These trails present special opportunities to view wildlife, wildflowers, and, of course, the canyon itself. A Walking Guide for the Warner Point Nature Trail is a great resource for learning about the geology, ecology, and history of the Black Canyon as you hike along the trail.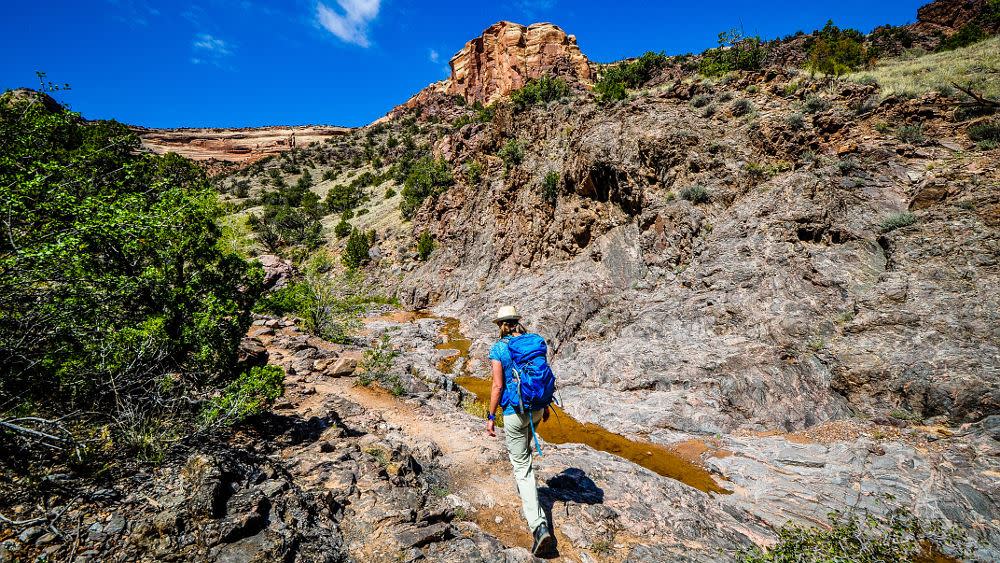 Inner Canyon Hikes
There are three trails that lead from the South Rim to the bottom of the Black Canyon – Warner Route, Gunnison Route and Tomichi Route. Each of these trails presents a challenging hike - the Tomichi Route being the most difficult and the Warner Route the longest. Free wilderness use permits are required for all backcountry and wilderness use (both day use and overnight) including hiking the inner canyon or off of established trails, rock climbing, and all river use. Use permits are issued on a first-come, first-served basis.
A fourth route to the canyon floor, the Red Rock Canyon Route, can be accessed from Bostwick Park. Access to this route is by permit only. 

If a steep descent into the canyon (and a strenuous hike out) is more than you want to tackle, the Devil's Backbone and North River Routes are accessible from the East Portal Road and provide access along the bottom of the canyon alongside the Gunnison River.