Paid Advertising Opportunities
Advertising in the Official Montrose Visitor Guide
The following provides current information about contributing to the Office of Business and Tourism's (OBT) vision of creating a guide that supports your marketing efforts. The Official Montrose Visitor Guide (both in print and digital forms) is a vital tool in the OBT's efforts to inform potential visitors and future residents about our area, raise excitement, and create an excellent customer experience. The entire OBT team is looking forward to working with you to attract guests to Montrose and encourage them to engage with your business while enjoying their time here. Please feel free to contact our team with any questions.
Direct Official Montrose Visitor Guide advertising questions and completed contracts to Kailey@VisitMontrose.com
 
Advertising on the Cart Screens at Black Canyon Golf Course
Advertise your business for one year on the golf cart screens at Black Canyon Golf Course. Your business can choose an available hole to "sponsor" and when a golfer arrives at that hole, their cart screen will display your digital ad. The golfer will be required to acknowledge the ad by tapping the screen to return to the golf course map.
Direct cart screen advertising questions and completed contracts to Kailey@VisitMontrose.com
 
Advertising on VisitMontrose.com
Advertise your business on VisitMontrose.com with a variety of placement options to fit any budget. The average number of impressions on ads per month (average pulled from data from 2019-2021) is 141,000. Check out the Ad Placement Sample Page and see an example of Peak Mountain Guide's ad below.
Direct VisitMontrose.com advertising questions and completed contracts to Shannon@VisitMontrose.com
Free Advertising Opportunity
VisitMontrose.com Listing
Did you know that ALL Montrose businesses with proper licensing have the opportunity to be listed on this website for free? All you need to do is fill out this short form and the Visit Montrose team will create your listing! You can also update your listing at any time by submitting changes through this form. See an example of Camp Robber's free listing below.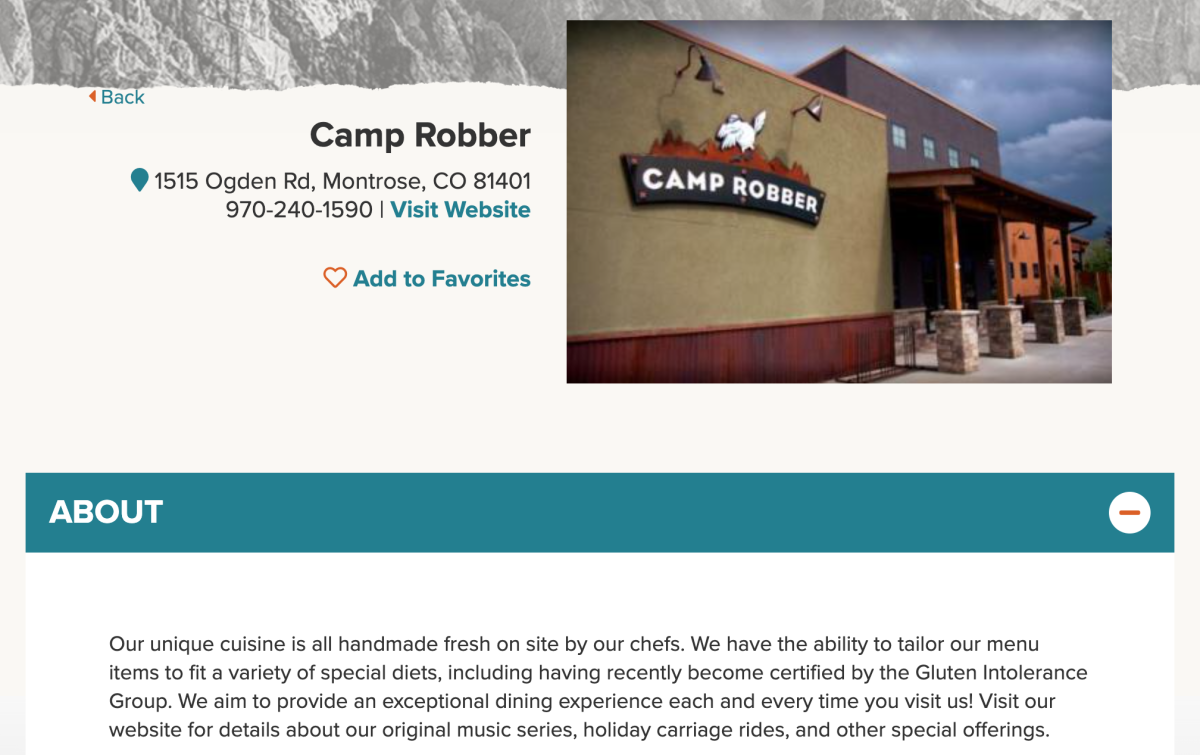 Montrose Visitor Center
107 South Cascade Avenue
Montrose, CO 81401
970-497-8558
855-497-8558 Toll Free

Email the Visitor Center
Hours of Operation
Monday - Saturday
Summer: 9 am to 5 pm
Winter: 10 am to 4 pm

Closed on all national holidays.