Colorado is known for its winters (ok - and its falls, summers, and springs). Any time of the year in Colorado is unlike the other, and depending on where you are in the majestic Centennial State, you're going to see that the snowy season can vary greatly, depending on where you go.
If you're at the top of a ski lift in Telluride, you're going to see just a tad more snow than you are on the high desert floor of the Western Slope. Lucky for us, we're close to both - and fluffy powder awaits to be explored via skis/snowshoes!
Offering both groomed and ungroomed trails all over the area with short distances from town, cross country skiing and snowshoeing make for an unforgettable experience - whether it's your first time strapping odd-shaped objects onto both feet or it's now a weekend ritual during the winter/early spring for you and your friends. In this blog, several areas will be broken down for you to put some (or all!) of these areas on that 'Western Colorado Winter Bucket List' we know you've been crafting.
Grand Mesa National Forest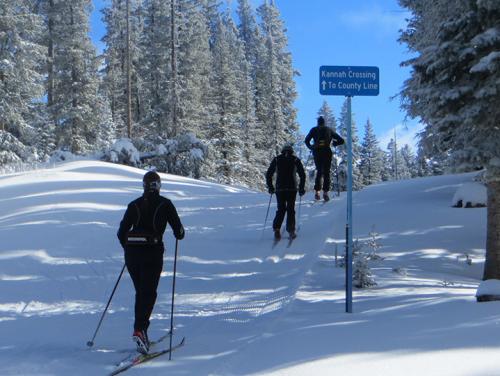 If you haven't ventured to the world's largest flat-top mountain for a snowy adventure, we suggest grabbing your skis or snowshoes and going as soon as possible!
The Grand Mesa Nordic Council's three trails total around 30 miles of touring and are known as some of the best in the state.
Skyway​ & County Line
These trailheads are about two miles apart on Highway 65, located on the Grand Mesa. Between these trailheads, you have the opportunity to experience 19 miles of high-quality groomed skate-classic cross country ski trails.
Skyway & County Line are easy to moderate with a few gentle climbs, but it's good to keep in mind that at over 10,000 feet of elevation, you may be feeling the cardio burn at times. Overall, these trails are great for beginners and advanced skiers/snowshoers alike! On the map link above, you'll want to note where a few steeper descents are. There are some blind corners and runouts that you'll want to be aware of as well.
With two overlooks that offer 100-mile views of the San Juans to the south and Battlements to the north, you won't be disappointed!
If you're planning on bringing your furry adventure companion, County Line is the place to go. Skyway, however, is a 'no dog' zone, so please be respectful and clean up after your pal.
Ward
A few miles away from the Skyway & County Line trailheads is the 'Ward' Trailhead, offering 11 miles of marked and signed trails. This area is known to be steeper, with a 500' elevation gain from the trailhead to Baron Lake Drive. With trails through high timber, frozen lakes, open areas, and an overlook of the San Juans, it's a trek for the adventurous!
This trailhead is groomed from the beginning until Baron Lake Drive near the visitor center, and provides easy access to the touring trails and to backcountry skiing terrain.
Dogs are welcome at Ward, but remember to cleanup after your dog on whatever trail you may be on - we pack everything out, always!
Black Canyon National Park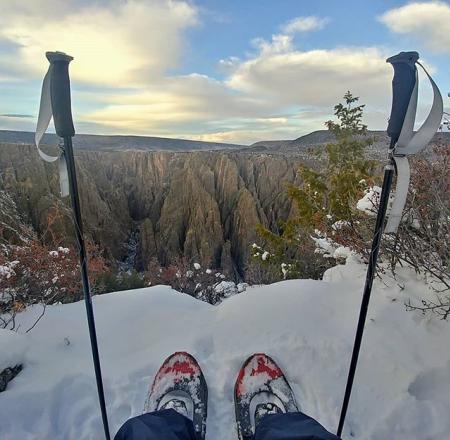 If you thought that Black Canyon National Park was just for summer adventuring, you'll want to keep reading. Come winter, one of Colorado's most treasured natural wonders is covered in fresh blankets of snow and sets quite the scene at the National Park while you kick and glide your way along the canyon.
In the winter, South Rim Road is buried in snow. This four-mile road is not plowed in the snowy months, which allows cross country skiers and snowshoers alike to use the road as an out-and-back trail. During your trek on the road, you'll be getting up-close views of the Black Canyon (and if you go far enough, Pulpit Rock Overlook). 
If snowshoeing is what you choose, there's plenty of adventure for you, too! After you're geared up, you can cozy up to the edge of the canyon even more than you can on skis, but remember to take precautions - and if you haven't been out on snow equipment before, do your homework ahead of time and get used to your gear. Oak Flat Loop (takes around 1.5 hours) and Rim Rock Trail (about 1 hour in length) are great options for snowshoeing and the views are second to none.
For the sake of local wildlife, please leave dogs at home.
Dave Wood Winter Recreation Area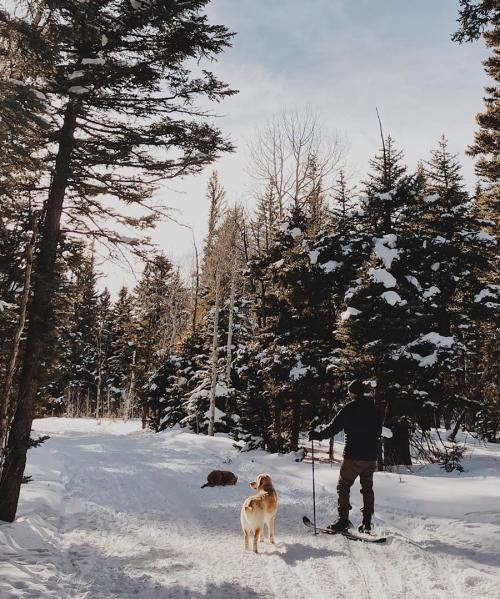 On the gentle slopes of the Uncompahgre Plateau just 15 minutes south of Montrose is Dave Wood Winter Recreation Area. Approximately 4.4 miles worth of ski/snowshoe trails ranging from 8,000-8,400 feet in elevation meander through this area that is dominated by aspen and ponderosa pine trees interspersed with thick pockets of gamble oak and sagebrush in the lower elevations.
The trails are ungroomed, but marked by level of difficulty from Elana Miles Area and Branson Loop (easiest), Happy Hollow and Walker Area (more difficult) to Plantation Alley (most difficult).
Four-wheel drive is recommended if you're headed to the trailhead and Dave Wood Road is plowed to the parking area. From Montrose, you'll want to take County Road 15 to the Forest Service boundary. The trailhead is on the west side of the road at the boundary.
Dogs are allowed at this recreation area, but again, please look after and pick up after your companion.
Ouray Area
If you're looking for a classic nordic loop or a high alpine adventure, you may consider heading to our friendly neighbors to the south in Ouray.
North Corridor
This scenic, two-mile loop along the Uncompahgre River is located in Ouray and is perfect if you plan on soaking in the hot springs right after your sking/snowshoeing workout (I'd be doing the same!). You can access the loop from the Hot Springs Pool parking lot, Chatauqua Lane (across from Rotary Park), or Uncompahgre Street.
Dogs are allowed on leash on the loop.
Ironton Park
The views don't get much better than when you're at Ironton for a day of skiing/snowshoeing. Nine miles south of Ouray, (hello Red Mountain pass!) you'll wind around a narrow and steep road to get to the trails, but have no fear - it will all be worth it!
With beginner and intermediate trails, you'll find both groomed and ungroomed areas. If you follow more of the difficult 'blue' trails, you'll be trekking to mining claims on the mountainsides. Take the groomed trails, and you'll be routed through the historic ghost town of Ironton where several buildings remain. You're able to go inside these buildings, but make sure you're careful - the stairways and floorboards are broken and are questionable in terms of stability.
Rentals
If you're looking for snow gear rentals, you'll want to check out the following spots:
970 Sports Rewind - 614 E Main Street - 970.417.3771
The Great Outdoors Company - 10 S Selig Avenue - 970-249-4226
Photo Credit :
Cover Photo - @tenkarachick
Grand Mesa Photo - Courtesy of Grand Mesa Nordic Council
Dave Wood Section - Catie Mckinney
Black Canyon National Park - @hikerdude87
Ironton Area - JBarton Photos