Mud season, an uninspiring term for an underrated time of year. 
As February gives way to March and April in the Rockies, the days are longer and warmer, and so, at lower elevations the snow is melting away leaving muddy streets (because where I live there are dirt streets). My dog constantly tracks mud into the car and inevitably there's a line at the car wash every time I try to wash off those dirt streets. As with the snow, the winter tourism season is melting away. This may sound like a boring time to be in the mountains, but in reality – it's a great time.
Visiting Colorado in the shoulder season is underrated. It might be hard to plan for a particular objective or nail down weather ahead of time, but you can expect there to be great conditions for something. Maybe a spring storm just put down a foot of fresh snow or the sun is out and south-facing rock climbs are in the perfect temperature range. Ice climbs usually hang on into the later part of March. This time of year it's not far fetched to experience all the seasons in a single week!
What are you looking for on your trip?
If knowing your exact itinerary is a must, the shoulder season might not be the time for you. However, if you're open to discovery and maybe trying several new things all in one trip, this might be just the vacation you're looking for. There is plentiful snow at higher elevations and warm, sunny rock climbing in the valley. After all, one of the reasons we love Colorado is the fact that you can ice climb, ski, and rock climb all in the same day!
It's the slow season – ask for a discount.
Take a cue from the locals and relax – they'll take care of you. Many hotels and guides are willing to pass along a discount during the shoulder season, especially if you ask. The pressure of the busy January and February months eases into a laid-back experience where you'll actually get to know a little bit about the person behind the counter.
A collection of awesome?
With a willingness to be flexible and make plans based on the season and the weather, we're able to really enjoy the best the mountains have to offer.  Conditions will undoubtedly vary, but it's 2020. With the internet and our own organizational sources, there's a wealth of real-time information on conditions,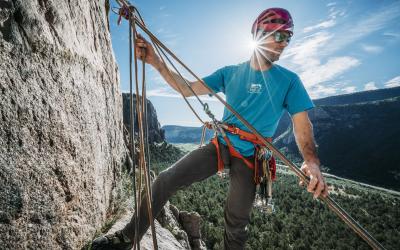 weather, and beta we're able to leverage. Maybe it's a catchphrase, but rather than trips having a set itinerary we like to think of itineraries as a collection of awesome things to do. The goal each day is to marry your stoke (i.e. interest and ability) with the awesome terrain that's available here!
Okay, here's the bottom line. Fly into Montrose and grab a room for the first night. Linking up with a guide ahead of time eases a lot of the planning. As the weather forecast comes into better focus leading up to your flight you can make those final adjustments of what to bring. Maybe your future holds dry, sunny rock climbing, or perhaps ice and mixed climbing, or ski touring from hut to hut. We hope to see you out there!
Photos provided by : Peak Guides & Xander Bianchi