The Duncan Trail is a strenuous and rugged trail found in the Gunnison Gorge National Conservation Area near Montrose, Colorado, and is managed by the Bureau of Land Management. The trail begins on top of the gorge in a high desert environment and quickly descends down to the Gunnison River, just north of Black Canyon of the Gunnison National Park. The trail is approximately 3 miles round trip but can be made longer by exploring the riverbank once you reach the Gunnison River. This is a great hike for fishermen as it provides secluded access to Gold Medal waters.

Getting There
Please note that you'll need a vehicle with decent clearance the get to the trailhead. For reference, we were able to make it without scraping on any rocks in a 2008 AWD Honda CR-V.
From the Montrose Visitor Center, head north and turn right onto Main St, heading east for .7 miles. Turn left onto San Juan Ave and follow that for .3 miles until you turn right onto 6530 Rd. Follow the road for 2.5 miles where you will turn right onto Peach Valley Road. Continue for approximately 5 miles, then turn right on Duncan Road where you'll see a large sign for the Duncan Trailhead. From here, the road gets a bit rough but it's only 1.8 more miles to the trailhead despite the sign saying it's 2.5 miles. It takes approximately 30 minutes to reach the trailhead from the Montrose Visitor Center.
At the trailhead, you'll find a registration area, bathroom, informational kiosk, and picnic area. I like to take a photo of the trail map on my phone just in case I end up wanting to reference it later on. Make sure you bring $3 per person for day use. Fill out the fee envelope with your information, rip off the two slips and place one of the slips on your car's dashboard, the other slip in your pack, then deposit the envelope in the fee box at the trailhead. Finally, register your group at the trailhead by signing the log and begin your hike!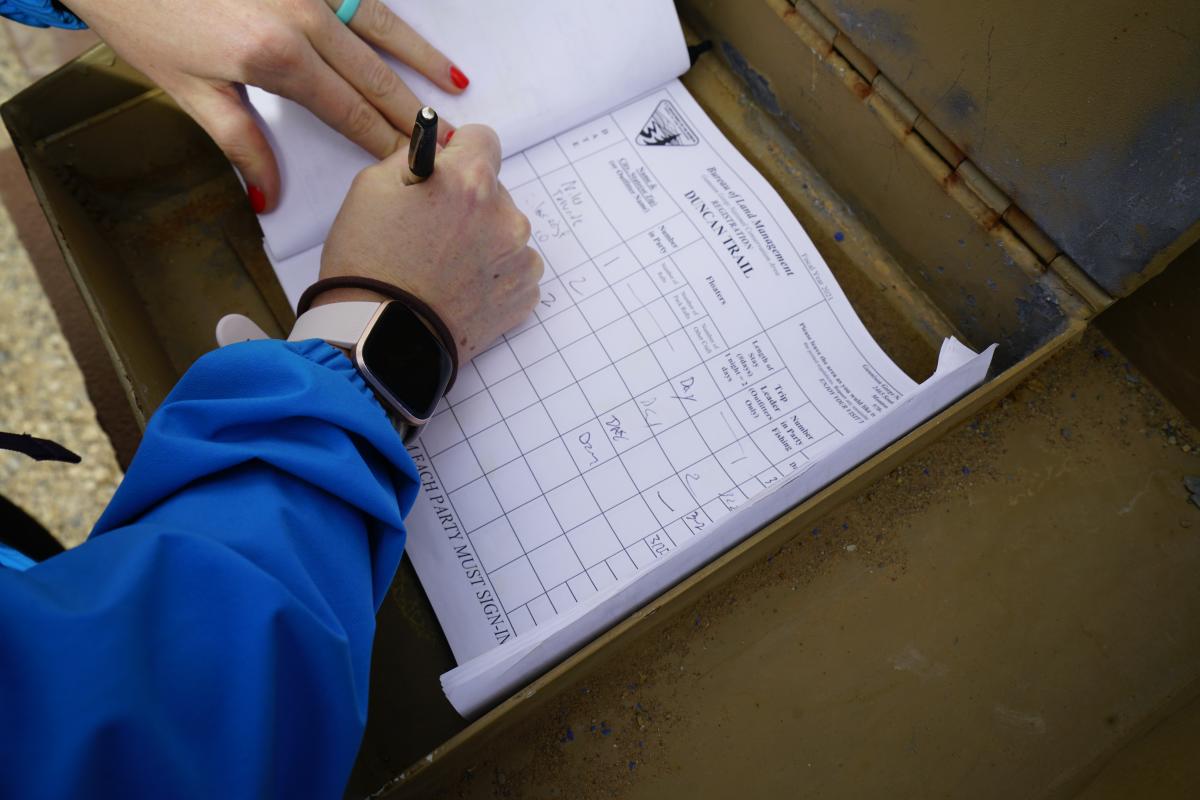 My husband, our dog, and I have hiked this trail twice. Once in early March 2021 and most recently, in the last week of March 2022 on a 70-degree day. In both years, the trail was dry and there was no snow in sight. I found myself in awe of the natural beauty, gulping my water down quicker than expected, and sweating in the early spring weather. I would imagine that doing this hike in warmer months would prove to be quite difficult, requiring lots of hydration. There is little shade on this trail so bring light layers, sunscreen, sunglasses, a hat, a minimum of 64 ounces of water per person, and snacks to keep your energy up. 
The Trail
Dogs are allowed on this trail but must be kept under verbal or physical control. Beware of steep cliffs and cacti that can easily punch through the paws and skin of distracted dogs and humans. 
As you begin your descent down to the river, you'll pass a sign on the right side of the trail at about .5 miles for the Bighorn Trail. You can take the Bighorn Trail to connect to the Bobcat Trail, a more difficult and longer hike down to a different section of the Gunnison River. To proceed on the Duncan Trail, keep left here. At this point, the trail is sandy, easy to follow, and meanders through sandstone formations and juniper woodland.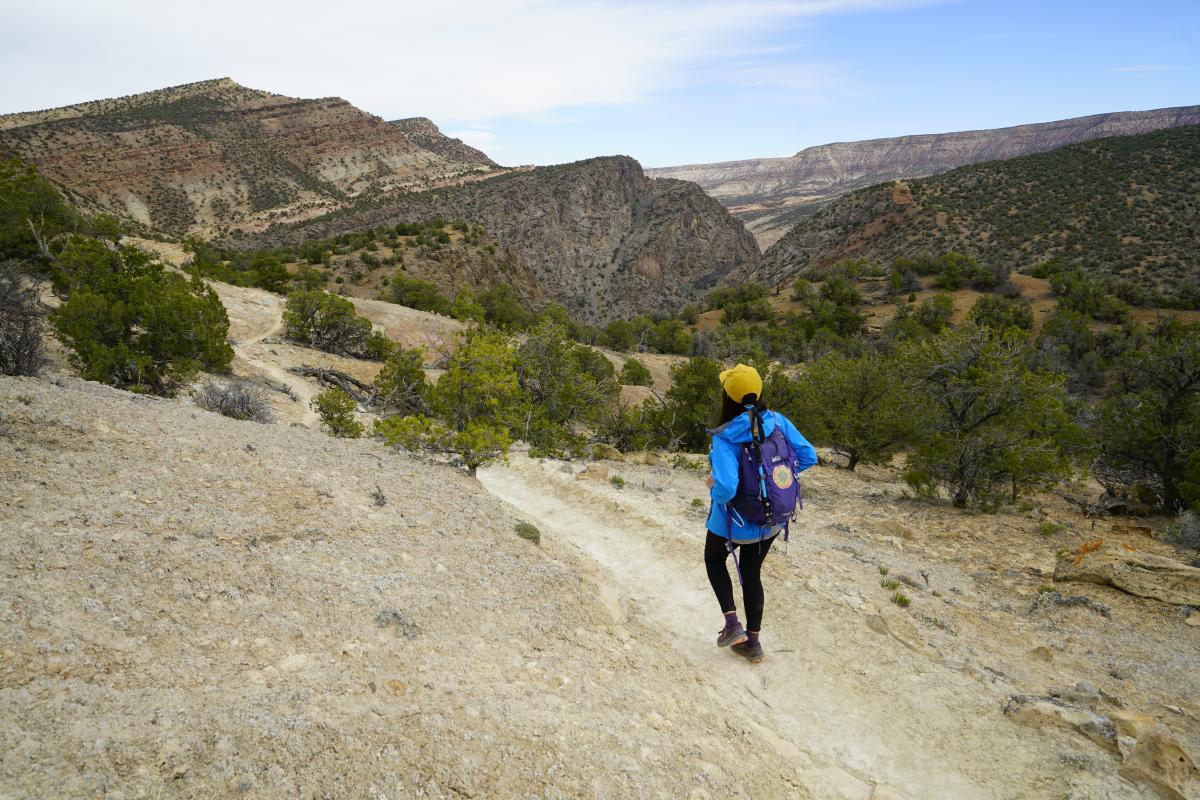 The trail quickly becomes steeper and steeper as it travels between a cut in the metamorphic and igneous rock, revealing stunning views of the Gunnison River, and then turns into a scree field that requires the use of both your hands and feet to navigate safely.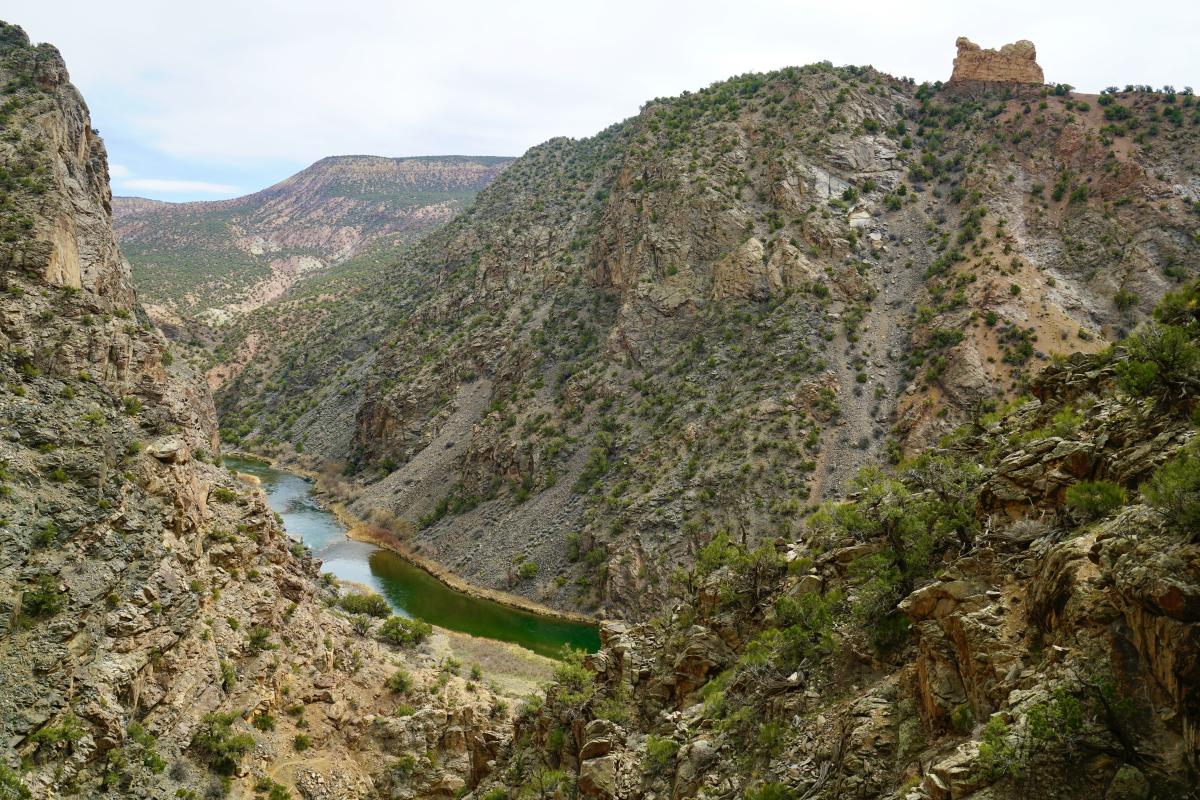 At this point, I put my hiking pole away and had to focus on choosing the most stable-looking rocks to step on while avoiding patches of cacti. It would be incredibly difficult to complete this section of the trail with a dog on a leash so if you plan to bring your pup, make sure you have solid verbal control of them and trust their ability on steep terrain.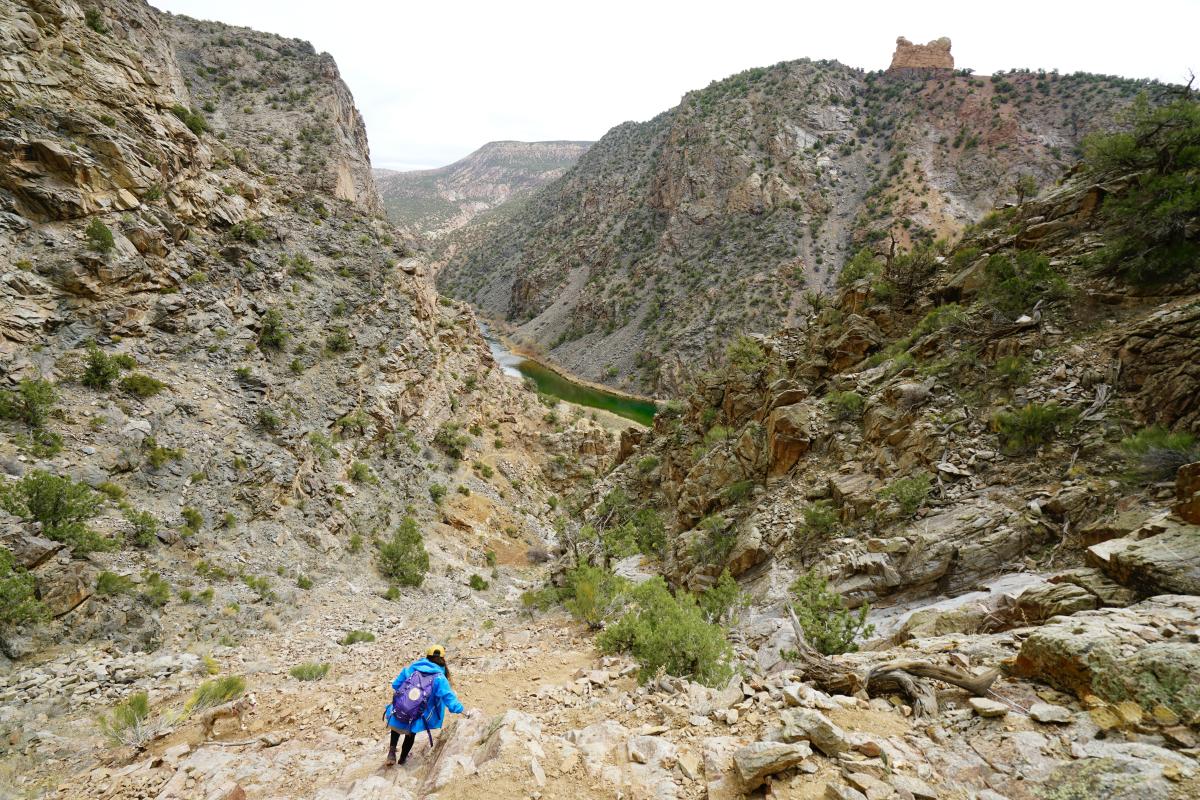 Once you get to the bottom of the scree field, the trail hugs the northern wall of the canyon. Be sure to pause, turn around, and take a look back up at what you've just descended!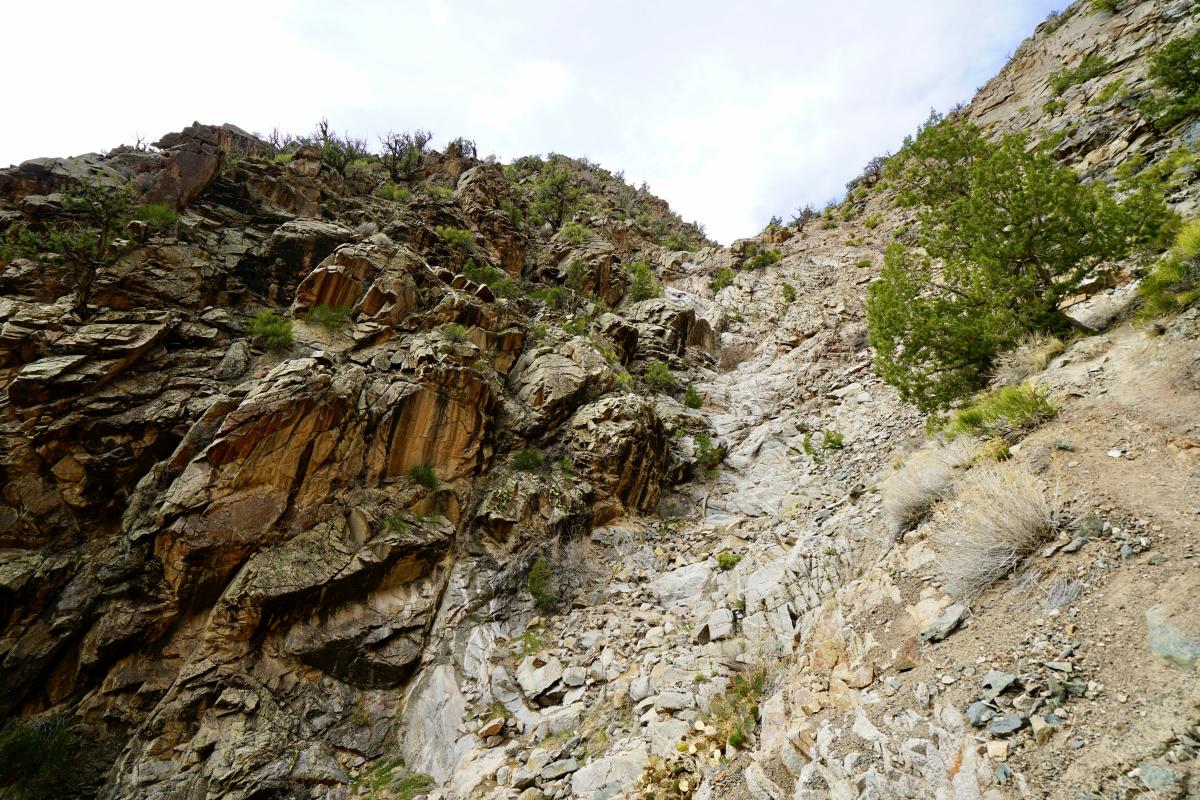 At this point on the trail, you'll notice a path that heads to the right and appears to be the easiest route to take. We followed it and became cliffed out above what likely turns into a waterfall during heavy rainstorms. If this happens to you too, just retrace your steps and find the path that hugs the left side of the canyon wall. It does get a bit dangerous in this section with a bit of exposure but it's a small section that's easy enough to navigate. Pause at the top of this section and take in the sounds of the rushing river and wildlife. In my opinion, this is the best view along the entire hike.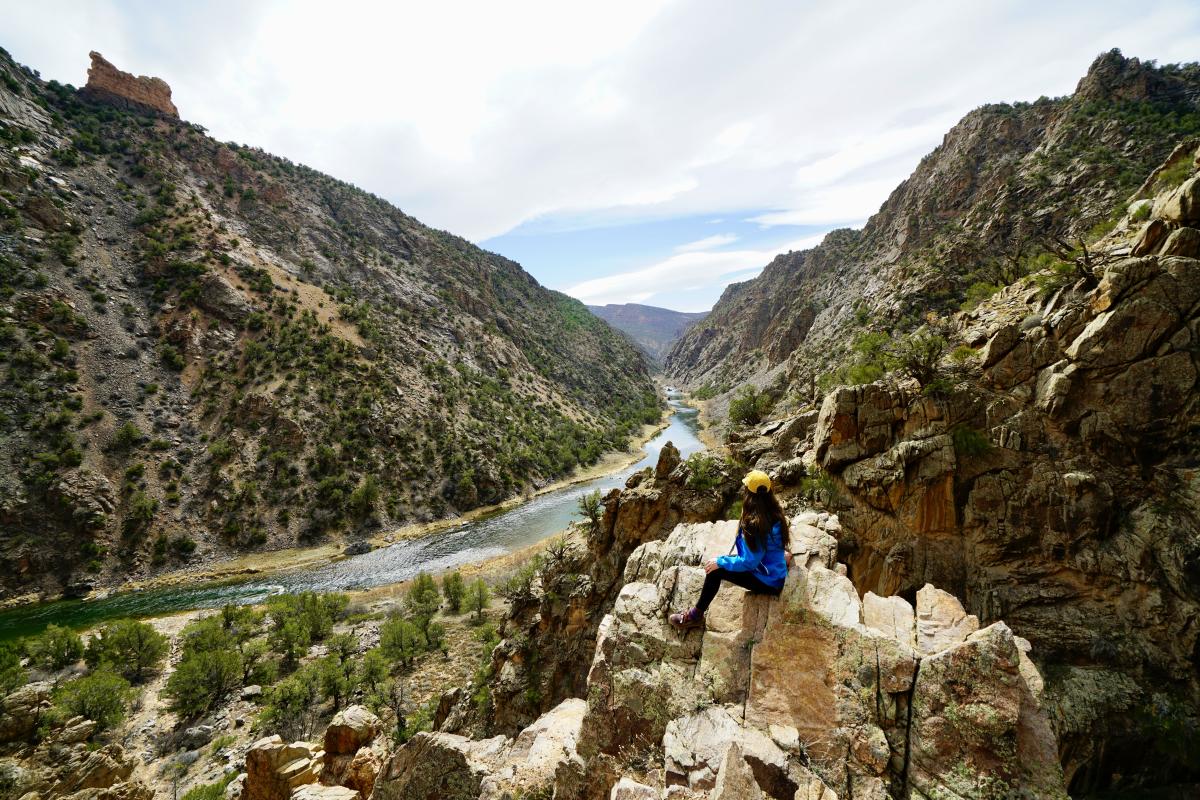 From here you head down another loose and steep section until you've finally reached the riverbank. The Gunnison River was flowing nicely with its usual green tint and crystal clear visibility. There is a path that travels along the bank of the river in both directions and it's certainly worth exploring.
At this point, my husband couldn't get his fishing rod out fast enough and began his second adventure of the day while I found a sandy patch to sit on and enjoy some snacks. I changed into shorts because I was getting pretty toasty and burning through my water supply quicker than anticipated. Finally, I kicked back with a book until the wind picked up and my husband could no longer cast his fishing line successfully.
Although there was one other car at the trailhead when we arrived, we did not see a single soul the entire day. It was just the kind of solitude one expects when they go hiking in the Gunnison Gorge. It's hard to believe such a pristine and quiet trail could possibly exist so close to a large town like Montrose.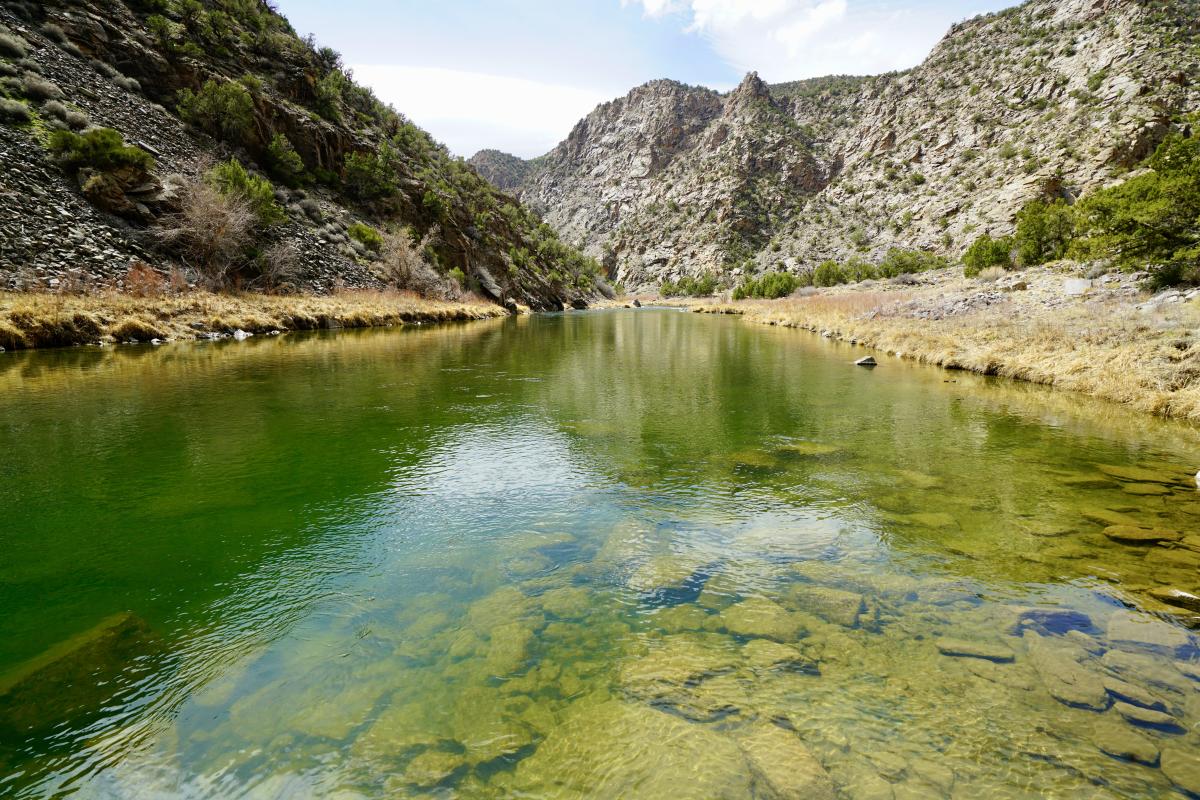 Care for Colorado
We kindly ask you to read up on Care for Colorado principles before exploring our beautiful corner of Colorado.
Know before you go | Check the weather forecast before you go, bring enough cash for fee areas, and make sure your vehicle has enough clearance to get to the trailhead. Always have a backup plan and come prepared with any gear or supplies you might need.
Stick to the trail | Stay on the designated trail to avoid trampling on delicate habitats. Keep nature natural and don't take shortcuts. Wearing proper footwear helps keep you on the trail no matter the conditions.
Leave it as you find it | Leave plants, rocks, and historical items as you find them so others can experience the joy of discovery. Treat all living things with respect, including plants and trees. Building structures and making your own campsites on public lands is not cool.
Trash the trash | Pick up any litter you may come across and pack out any trash that you packed in. If you have to go to the bathroom, make sure you're at least 200 feet from trails, water, and people. Based on the environment you're in, know whether to dig a cathole or bag up any waste to pack out with you.
Be careful with fire | Regardless of the season, Colorado's low humidity creates dry, dangerous conditions. Check the fire restrictions in the area you're traveling to and abide by them. 
Keep wildlife wild | Do not feed, approach, or touch wildlife.
Share the trail | Be considerate to other trail users and know who has the right of way. Silence cell phones and music on the trail so that nature's sounds can prevail.